August 17, 2010 – Air quality varies widely among New York City neighborhoods during the summer months, the Health Department reported today. A new report from the New York City Community Air Survey (NYCCAS) shows that four major pollutants are heavily concentrated in high-traffic areas such as Midtown and Lower Manhattan, as well as parts of the Bronx, Brooklyn, Queens and Staten Island that run along busy freeways. The report – Results from Summer Monitoring 2009 – is the city's first comprehensive analysis of summertime air quality at the street level. Another recent NYCCAS report identified heating oil as a major contributor to wintertime air pollution, but the new report points to motor-vehicle traffic as a key local source of street level pollution during the summer.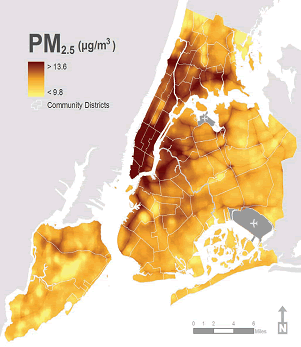 The findings show that summertime levels of fine-particle pollution, also known as PM2.5, vary two-fold or more across NYC neighborhoods – as do concentrations of elemental carbon, nitric oxide, nitrogen dioxide and ozone. Most of the major summertime pollutants are concentrated in densely populated areas, where traffic is more congested and where more fuel is used for cooking and water heating. The study found that areas with the greatest traffic density had three times the concentration of nitric oxide, and twice the concentration of nitrogen dioxide, as areas with the lowest traffic density. PM2.5 follows a similar pattern.
But ozone is different. Ozone results from chemical reactions among other pollutants, such as nitrogen oxide, in the presence of sunlight. But the same pollutants that generate ozone can remove it from the air in a reaction known as scavenging. As a result, urban centers with high traffic emission levels tend to have less ozone than downwind areas. The study found that ozone concentrations were highest in downwind suburban locations, such as the Rockaways and lower Staten Island.
"It's important to remember that all New York Yorkers have a stake in improving the City's air quality," said Dr. Thomas Farley, New York City Health Commissioner. "Exposure to the pollutants evaluated in this report can cause grave health problems, including cardiovascular and lung diseases, and premature death. This study reiterates the need to switch to more fuel-efficient cars, reduce car traffic, and increase use of public transportation. We must also continue efforts to make the city an even easier and safer place to walk and bike. Besides increasing physical activity, these active forms of transportation help protect the air we breathe."
The fine-particle pollutants measured in this report can penetrate deep into the lungs, causing inflammation of the airways, exacerbating lung and heart disease. In a national study published last year, researchers found that residents in cities with the highest levels of PM2.5 had shorter average life expectancies. Conversely, cities that achieved larger reductions in PM2.5 pollution during the 1980s and 90s enjoyed greater gains in life expectancy. Seniors and young children may be especially vulnerable to air pollution, but it affects everyone.
"Street designs that enhance safety and ease congestion build a healthier New York," said Transportation Commissioner Janette Sadik-Khan. "Through traffic-calming projects, dedicated bus lanes and improved room to walk and bike, we are transforming our streets into livable spaces where New Yorkers can be more active outdoors."
"The NYCCAS report reinforces the need to make our buildings more efficient and reduce vehicle emissions, two primary goals of PlaNYC, the City's comprehensive plan to create a greener, greater New York," said Adam Freed, Acting Director of Long-Term Planning and Sustainability. "The latest report also demonstrates that traffic congestion in the city's central business districts has an impact on air quality throughout the city and must be viewed as a citywide issue."
The report, available at nyc.gov/health, suggests that reducing emissions – by expanding mass transit options and continuing efforts to facilitate walking and bicycling – is the key to reaching New York City's clean air goals.
About the New York City Community Air Survey
In 2007, New York City's first comprehensive sustainability plan, PlaNYC, established a range of initiatives to improve the City's air quality. As part of PlaNYC, the New York City Community Air Survey is studying how harmful air pollutants vary across New York City neighborhoods. Launched in December 2008, NYCCAS is sampling the air at 150 street-level locations in every season to help inform the City's air quality improvement efforts.
Data from the survey will help to inform air-quality initiatives in the next edition of PlaNYC, to be published in 2011. New York City's second round of sustainability planning, like the initial PlaNYC, will involve the community in developing these initiatives. To learn more about other New York City air-quality initiatives, visit www.nyc.gov.
###