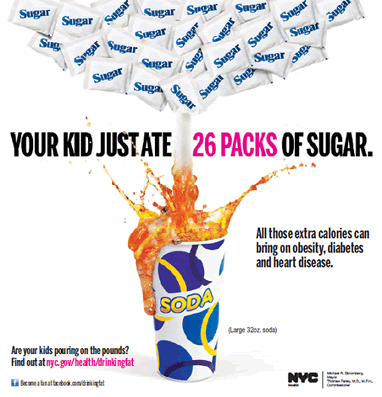 August 2, 2010 – The Health Department is launching a new awareness campaign, which debuts in the subway system this morning. In the spirit of last year's "Pouring On the Pounds" campaign, it urges New Yorkers to consider what goes into a large serving of sweetened soda. The answer: a shocking 26 packets of sugar. The campaign comes amid indications that New Yorkers are starting to cut back on the nation's leading source of excess calories. The Health Department reported today that the proportion of New York City adults consuming one or more sugary drinks each day declined by about 12% between 2007 and 2009.
The decline is a sign of progress in New York City's prolonged battle against obesity – but the battle is far from over. Sugared beverages still add millions of empty calories to New Yorkers' diets each year, and roughly 3 out of 5 New Yorkers are overweight or obese. 
"Sugary drinks shouldn't be a part of our everyday diets," said Dr. Thomas Farley, New York City Health Commissioner. "Soda has fueled the obesity epidemic as portion sizes have grown and marketing of these products has intensified. We still have a long way to go to reduce the consumption of sugar-sweetened drinks, but it's encouraging to see that New Yorkers are starting to move away from these products."
The Health Department's new ad is part of a continuing effort to encourage that trend. Last summer the agency caught New Yorkers' attention with a subway poster that showed soda turning to blubber as it tumbled from a bottle into a glass. "Are you pouring on the pounds?" it asked. "Don't drink yourself fat." The agency raised the stakes a few months later, with an online video in which a man downs a glass of the same fatty substance, pretending to enjoy it.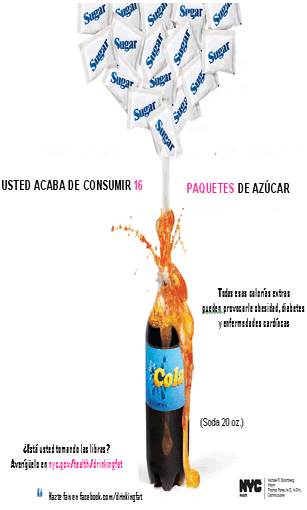 The posters debuting this week take a similar tack, but they go a step further, showing the actual sugar content of a 20-ounce bottle of soda (16 packets) – or a 32-ounce bucket (26 packets). "Few of us would knowingly eat that much sugar in one sitting, let alone feed it to our kids," Dr. Farley said. "This campaign raises a compelling question: If you wouldn't eat it, why drink it?" Each image is accompanied by a reminder that sugar consumed in these quantities can lead to obesity and other health consequences, such as diabetes and heart disease.
New York City has taken many steps in recent years to reduce consumption of sugar-sweetened beverages and encourage better nutrition. Other efforts include posting calorie counts in chain restaurants, setting new food-procurement guidelines for New York City agencies, limiting junk food in schools and day care centers, and training thousands of health care providers to help their patients eat more healthfully. The agency has also developed a community action kit to help businesses and community organizations provide healthy beverage choices to their employees, clients and members. The kit is available at nyc.gov/health/drinkingfat.
The new findings on beverage consumption come from the Community Health Survey, the City's annual study of health and behavior among adults throughout the five boroughs. Overall, the proportion of New Yorkers reporting daily consumption of sugary beverages each day fell from 36% in 2007 to 32% in 2009, a decline of 12%. Daily consumption fell even faster among 18- to 24-year-olds (down from 58% to 48%, or 17%). Among racial and ethnic groups, Hispanic New Yorkers reported the most progress, with a 21% drop in daily consumption (from 48% of adults in 2007 to 38% in 2009). The trend also swept across low-, middle- and high-income neighborhoods and all five boroughs. The proportion of steady sugar drinkers fell sharply in Queens (17%) and the Bronx (13%). The declines in Manhattan (11%), Brooklyn (8%) and Staten Island (11%) were not statistically significant.
For more information about beverages and obesity, New Yorkers can call 311 or visit nyc.gov/health/obesity.
Read Daily Consumption of Sugar-Sweetened Beverages in New York City, 2007-2009 (PDF)
###