May 24, 2010 – New York City's Nicotine Patch and Gum Giveaway Program enrolled more than 40,000 smokers in 2010, nearly one and a half times more than last year's enrollment of 28,000 smokers, the Health Department reported today. Following the most successful giveaway program since its inception in 2003, the Health Department continues its anti-tobacco efforts with the launch of a new television spot today. The spot, originally produced in Australia by Quit Victoria, was adapted by the Health Department to air in New York City. It will run in English and Spanish on network and cable television through June 13 and can be viewed online at nyc.gov/health.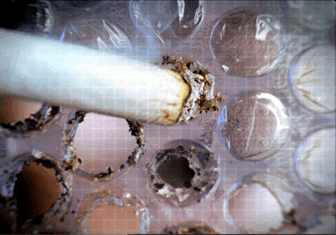 Bolstered by a new Web-based application form, this year's Nicotine Patch and Gum Giveaway Program exceeded participation goals by nearly 20%. Approximately 2,500 New Yorkers enrolled each day – the highest average daily enrollment ever. Since 2003, the agency has distributed nicotine patches and gum to more than 200,000 New York City smokers during annual giveaways, enabling an estimated 70,000 to quit permanently.
"Although most New York City smokers have already quit, smoking remains the city's biggest health problem," said Dr. Thomas Farley, New York City Health Commissioner. "Cigarettes kill more than 7,500 New Yorkers every year, and thousands more suffer smoking-induced strokes, heart attacks, lung diseases and cancers. Our anti-smoking media campaigns have motivated thousands of New Yorkers to quit smoking – and the Nicotine Patch and Gum program has given many the extra support needed to succeed."
Smokers die, on average, 14 years earlier than nonsmokers, and often endure years of progressive illness along the way. The new television spot shows, through vivid analogy, how the chemicals in tobacco smoke destroy the tiny air sacs in lungs, gradually starving smoker's bodies of oxygen, causing emphysema – a chronic, debilitating and irreversible pulmonary disease.
The new TV spot superimposes bubble wrap over a lung X-ray to show how cigarette smoke destroys the tiny air sacs in a person's lungs. As a lit cigarette burns through one bubble after another, a narrator explains how this gradual tissue destruction leads to emphysema. "If you smoke cigarettes, you already have some of this lung damage," the announcer explains. "Every smoker does."
Tips on Quitting
Set a date to quit and mark it on your calendar. Get rid of ashtrays, lighters and cigarettes.
Visit your doctor for support and advice with your quit plan.
Make a list of reasons why you want to quit.
Make a list of family and friends who will support you.
Avoid triggers, including alcohol, caffeine and other smokers.
Exercise to relieve stress and improve your mood. Try a brisk 30-minute walk at least four days a week.
Consider using a safe nicotine alternative such as replacement patches, gum or lozenges, all of which can double your chance of quitting.
More information on quitting smoking is available at www.nyc.gov/health/smokefree.
###