March 24, 2010 – With less than 48 hours left in New York City's annual Nicotine Patch and Gum Giveaway Program, the Health Department is reminding New Yorkers who want to quit smoking to act now. Smokers can apply to get patches or gum at no cost by calling 311 or completing an online application at nyc.gov/nycquits. The Nicotine Patch and Gum Giveaway Program ends tomorrow – Thursday, March 25 – at midnight.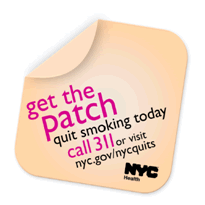 "Most New Yorkers who ever smoked have already quit," said Dr. Thomas Farley, New York City Health Commissioner. "Yet cigarettes will kill another 7,500 New Yorkers this year, and thousands more will suffer smoking-induced strokes, heart attacks, lung diseases and cancers. Most people quit without using nicotine patches or gum, but these products can double your odds of success."
More than 27,000 smokers have enrolled in the program since March 10, 54% by calling 311 and 46% by completing an application online. Among this year's participants, 13% identify themselves as light smokers, 64% as moderate smokers and 24% as heavy smokers. More than half of the new enrollees live in Brooklyn (28%) and Queens (26%).
Since 2003, the Health Department has distributed nicotine patches and gum to more than 200,000 New York City smokers during annual giveaways, enabling an estimated 70,000 to quit. Last year alone, some 28,000 smokers accepted the offer. The agency's "NYC Quits" Facebook page – facebook.com/nycquits – has become an online support system with more than 5,000 fans.
The Health Department will continue its recently launched public-education campaign, "Reverse the Damage," to highlight the benefits of quitting, and the consequences of continued smoking. The campaign uses little-known facts to illustrate how quickly the body can heal itself when a person stops smoking. With each image comes a graphic reminder of the consequences of continuing to smoke – consequences that include heart attacks and cancerous tumors. The campaign features TV spots and radio promotion, as well as online banners and outdoor ads.
Here are some tips to make quitting smoking easier:
Prepare yourself. Make a list of your reasons for quitting and plan for situations that may tempt you to smoke.
Pick a quit date. Get rid of ashtrays and lighters, and all cigarettes.
Make your home and car smoke-free. It is healthier for others and will help you resist smoking.
Get support and encouragement. Tell your family, friends, and co-workers that you are quitting and ask for their support.
Get a quit buddy. Ask a smoker to quit with you, or find someone who has already quit who you can talk to for support.
More information on quitting smoking is available at nyc.gov/health/smokefree.
###