March 24, 2010 – In observance of World Tuberculosis Day, the Health Department today released new figures showing a local decline in cases last year. New York City recorded 760 cases of TB in 2009 – a 15% decrease from 2008 and a 79% drop from the high levels seen in the early 1990s. The continued decline reflects improved surveillance and patient-management practices, both of which require cooperation between medical providers and the Health Department.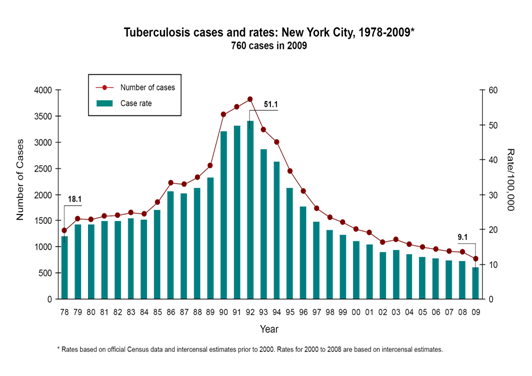 Dr. Thomas Farley, New York City Health Commissioner, urged medical providers to sustain the effort to evaluate, test and treat TB. "New York City has long been a model for the rest of the world in TB control," he said. "But there is more to be done, and we can't do it alone. We must continue to work with our partners to prevent the spread of disease and to ensure that TB patients receive proper care."
On Friday, the Health Department will host its annual World TB Day conference for medical providers and community leaders. The theme is "Working Together to Stop TB." Health Department staff will present the latest data on TB in New York City and highlight ways in which medical providers and the agency can work together.
"Despite the gains seen in the United States, TB continues to ravage many parts of the world," said Dr. Chrispin Kambili, the Health Department's assistant commissioner for TB control. "Tuberculosis continues to claim another life every 20 seconds. We must remain vigilant in the fight against this preventable and treatable disease."
Tuberculosis has become increasingly resistant to treatment in some parts of the world, but New York City has seen a 98% decline in multidrug-resistant tuberculosis (MDR-TB) since the early 1990s, thanks to better case management and infection control. The city recorded just 8 cases last year, down from 11 in 2008. In 2008, the city had two cases of extensively drug-resistant tuberculosis (XDR-TB), the least treatable form of infection. Last year it had none.
The Health Department works with medical providers throughout the city to ensure patients are appropriately treated and monitored until they are cured. The Health Department treated 46% of the city's TB patients in its own chest centers last year. Another 26% of patients completed treatment at facilities run by the City's Health and Hospitals Corporation. Private physicians and hospitals treated most of the rest.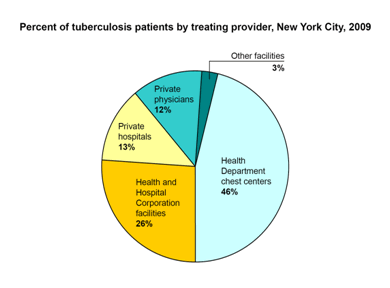 "Tuberculosis is closely linked to the social environment," said Dr. Elizabeth Jenny-Avital, an infectious disease specialist at Jacobi Medical Center in the Bronx. "Controlling TB requires not only medical intervention but social services that help promote health. This is why public health departments have such a prominent place in the prevention, control and treatment of TB."
Tuberculosis in New York City
While New York City's TB rate continues to fall, it is still more than twice the national rate (9.1 versus 3.8 cases per 100,000 people). The neighborhoods with the highest TB rates are West Queens (21.5 cases per 100,000 people), Flushing (16.3), Highbridge-Morrisania (16.0), Sunset Park (14.8) and East Flatbush-Flatbush (11.9).
Last year, foreign-born New Yorkers experienced 77% of the city's TB cases. The top five countries of origin among foreign-born persons with TB were China (14%), Mexico (6%), Ecuador (6%), the Dominican Republic (5%) and India (4%). TB remains a problem in many of these countries and throughout much of the developing world, affecting an estimated 9 million people each year and killing more than 1.5 million annually worldwide.
About Tuberculosis
Tuberculosis is a bacterial infection that spreads from person to person through the air. The infection can remain latent for many years before causing active disease, usually in the lungs. When people who are sick with TB cough or speak, they expel TB germs into the air. Other people may breathe in the TB germs, and some may become sick. TB is not spread by shaking hands, sharing food or having sex, and brief contact with someone who is sick (on a train or bus, for example) is unlikely to cause infection. TB typically spreads through close, daily contact.
Most people don't know they have TB infection until they become sick. People at high risk can stop TB by getting themselves tested and taking treatment to prevent TB disease.
Who Should Get Tested for TB
People who have symptoms of active TB (coughing, sweating, fatigue, weight loss, fever)
People who have spent a long time with someone who has active TB disease (a family member, friend, or co-worker)
People who have recently come from or traveled to a country with a high rate of TB
People who have HIV infection, lowered immunity, or certain medical conditions such as diabetes or chronic kidney failure
People who have worked or lived in a homeless shelter, prison or other group setting
Free Testing and Treatment
The Health Department offers free, confidential and convenient TB testing and state-of-the-art treatment in all five boroughs. For more information call 311 or visit www.nyc.gov/health/tb.
###