March 22, 2010 – New York City's older population is growing rapidly, as life expectancy increases and baby boomers age. More than 1 million New Yorkers are now 65 or older, up from 605,000 in 1950, and the number is expected to reach 1.35 million by 2030. In a new report, the Health Department examines the health of older New Yorkers and highlights the challenges this population faces. Only 24% of New York City's older adults describe their health as very good or excellent, compared to 37% nationwide, but City agencies are working on many fronts to promote healthier aging. The new report demonstrates the importance of Age-Friendly NYC, a collection of 59 initiatives released in August by Mayor Bloomberg and the Department for the Aging (DFTA). The initiatives, designed to help seniors stay safe, healthy and active, include turning senior centers into health and wellness centers. The new Health Department report is available at nyc.gov/health.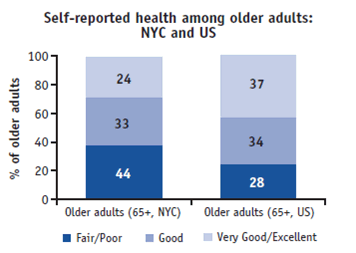 Older New Yorkers face the same health challenges as other aging Americans. Some 58% of seniors have high blood pressure, both locally and nationally, and diabetes affects 23% of older New Yorkers (the national rate is 20% of older adults). Older New Yorkers get screened for colon cancer and breast cancer at similar rates as seniors nationwide (69% and 78% respectively), but the new report suggests they are less likely to be active. Roughly a quarter of the nation's older adults (23%) report no physical activity, but 30% of NYC seniors say they're inactive. Federal health guidelines advise seniors to get at least 150 minutes of moderate exercise, or 75 minutes of intensive exercise, every week to maintain health and prevent chronic illness. Yet 25% of the city's older men, and 33% of older women, report no physical activity at all.
"We need to help older New Yorkers stay as active as possible," said Dr. Thomas Farley, New York City Health Commissioner. "The Health Department is working with DFTA and other City agencies to ensure that our neighborhoods promote active aging by providing good sidewalks, safe street crossings and ready access to parks and green space. Besides helping to control weight and prevent diabetes and heart disease, moderate exercise can help older adults improve balance, prevent falls and slow the rate of cognitive decline."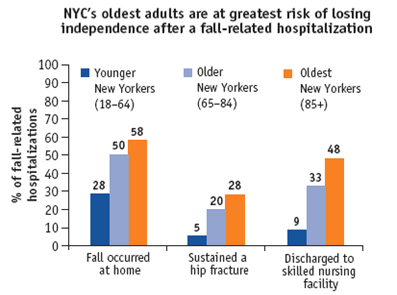 The Health Department report identifies falls as the leading cause of serious injury among older New Yorkers. Older adults account for more than two thirds of fall-related hospitalization and death among NYC adults, and the risk increases with age. Hip fractures account for more than one quarter of fall-related hospitalizations for the city's oldest adults (those 85 and older). And when the oldest adults are hospitalized for falls, nearly half are discharged to nursing facilities.
The Age Friendly NYC initiative establishes a task force to address fall prevention, and it calls for various measures to help seniors get the activity they need to maintain strength and balance. These include forming partnerships with health clubs so that fitness instructors can teach classes in senior centers. The City's Department for the Aging has also implemented a MarketRide program, which uses off-hour Department of Education buses to shuttle seniors from senior centers to supermarkets where they can buy wholesome foods. The Age-Friendly NYC report, which outlines these and other initiatives, can be found at nyc.gov/aging.
There has been some improvement in older New Yorkers' mental health. The proportion of seniors reporting frequent mental distress fell from 11% in 2005 to 7% in 2007. However, the report suggests that one in six of the city's seniors (17%) lack strong social networks – a risk factor for depression and ill health. DFTA is spearheading initiatives to keep seniors engaged and connected, and conducting depression screenings with the NYC Health Department and the Mental Health Association in New York State.
Here are some recommendations for staying safe, reducing falls, and being healthy later in life:
Talk to your health care provider about an appropriate exercise plan.
Get annual vision exams, cancer screenings and vaccinations, as well as general physical and mental health care.
Know the risks associated with taking multiple medications and ask your doctor if you can reduce the number of medications you take.
Check your home for tripping hazards such as clutter or unsecured rugs.
Identify someone who can make health care decisions for you if necessary. Call 311 to request a Health Care Proxy form that will make your wishes clear.
Join one of NYC's 281 community-based senior centers to take advantage of free health and wellness programming.
Health care providers can access the Health Department publication "Age-Friendly Primary Care" at nyc.gov/health for more information and resources on primary care for the elderly.
###