March 9, 2010 – The votes are in. After tallying more than 15,000 online ballots, the Health Department today reveals the winning design for the special limited-edition NYC Condom wrapper. And the winner is… the electronic power button submitted by Luis Acosta of Kew Gardens, Queens. With more than 23% of the votes, Acosta's entry squeaked past four other finalists to claim first place. Acosta's design symbolizes New Yorkers' power to take control and practice safer sex. A high-resolution image of the winning design is available at nyc.gov/condoms.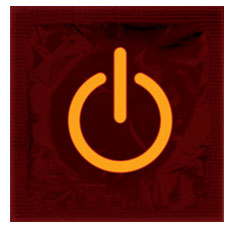 "The NYC Condom program is doing all of New York City a great service, and I'm very excited to be a part of it," Acosta said. "I hope my package design reminds people that they're in control. We all have the power to protect ourselves from sexually transmitted infections, HIV/AIDS and unplanned pregnancies."
Announced in December, the contest drew nearly 600 entries from all five boroughs as well as other states and countries from around the world. A panel of local artists, advertising professionals and public health and social-marketing experts chose five finalists whose entries best captured the city's spirit and the NYC Condom program's public health message. The judges' top picks were posted on the NYC Condom's Facebook page and on the Health Department's website, where New Yorkers voted for their favorites. Acosta's winning design will appear on several million limited-edition NYC Condom packages beginning this fall, and may be featured in the City's future condom promotions.
"New Yorkers came through with a dazzling array of designs," said Dr. Monica Sweeney, the Health Department's assistant commissioner for HIV prevention and control. "We thank everyone who entered. It's gratifying to see the city marshal its energy and creativity in the interest of its health."

"The design contest was meant to draw attention to a very serious problem," said Dr. Thomas Farley, New York City Health Commissioner. "The HIV/AIDS epidemic is far from over in the city, and sexually transmitted diseases continue to spread at high rates. We hope Luis Acosta's package design will remind all New Yorkers of their power to take control of their health. If you are having sex outside of a long-term, mutually monogamous relationship with an uninfected partner, you should use a condom – not just sometimes, every time."

Here are the runners-up, ranked by vote tallies:
#2 Top Hat

By Russell Greenberg

21% of votes

#3 Circle of Condoms

By Yujin Lee

20% of votes

#4 Manhole Cover

By Virgil Alderson

19% of votes

#5 Train

By Gene Lambert

17% of votes
The NYC Condom is a lubricated Lifestyles male condom with a distinctive wrapper and a price of zero. It became the nation's first municipally branded condom when introduced on Valentine's Day 2007. Condom distribution has since increased dramatically in New York City and now exceeds 40 million a year. Any NYC-based organization, public or private, can order them at nyc.gov/condoms.

#010-10