March 1, 2010 – Unintentional drug overdose deaths declined sharply in 2008, falling to the lowest level seen in New York City since 1999, the Health Department reported today. The annual number of deaths fell from 874 in 2006 to 666 in 2008, a new report shows, marking a 27% decline in the city's drug-related death rate over two years. Yet drug overdose remains the third leading cause of premature death among New Yorkers between 25 to 34 years old, affirming the need to address the health consequences of drug use in the city.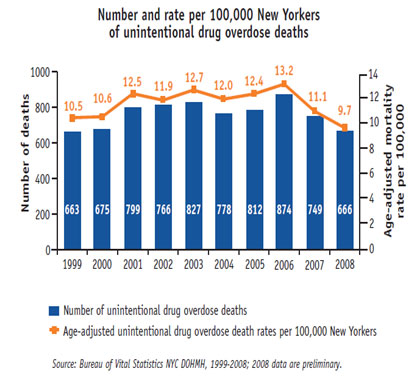 "In addition to drug poisoning, drug use increases the risk of injury, depression and hypertension, as well as liver disease, HIV and other sexually transmitted infections," said Dr. Thomas Farley, New York City Health Commissioner. "Anyone using illicit substances should get help by calling 311 or 800-LIFENET."
Survey data suggest that nearly a million New Yorkers have used illicit drugs during the past year. Marijuana is the city's most commonly used illicit drug, but most of the severe health consequences result from cocaine and opioids, which include heroin and pain relievers. Approximately 4% of New York City adults 35 and older report using prescription pain relievers without a prescription, or for reasons other than pain relief, during the past year. Cocaine use has also increased – most markedly among men, whose self-reported rate of abuse reached 5.8% in 2006, more than double the 2002 rate.
The report, available here (PDF), details the health impact of these trends. Drug use was a factor in nearly 55,000 hospital emergency department visits in 2007, and nearly a tenth of the city's hospital admissions are drug related. People between the ages of 35 and 54 make up two thirds of drug-related hospitalizations, and more than half of those hospitalizations (54%) occurred to New Yorkers living in low-income neighborhoods. Cocaine is the city's leading cause of drug-related emergency-department visits and hospitalizations, followed by heroin and other opioids – but opioids are involved in more fatalities.
The groups with the highest drug-related death rates include older blacks, middle-aged Hispanics and younger white adults. Some 98% of unintentional drug overdose deaths involve multiple substances, including alcohol. Approximately three quarters of these deaths involve opioids (such as heroin, methadone and prescription pain relievers), and 53% involve cocaine.
The reasons for the decline in overdose deaths are not clear. They may relate in part to community-based initiatives, established by law in 2006, to distribute naloxone within high-risk populations. Naloxone is a highly effective antidote to opioid overdose that can be life-saving when administered promptly.
The report includes steps that health care providers and social service providers can take to discourage illicit drug use and prevent drug-related illness and death. Among the recommendations:
Screen all patients for substance abuse problems.
Prescribe psychotherapeutic medication only as necessary, and educate patients to help prevent non-medical use.
Advise patients to keep their medications inaccessible to others.
Direct patients not to share medications with anyone else.
Offer education and outreach programs in places frequented by higher-risk populations, including emergency departments, detoxification service centers, methadone maintenance treatment programs, and homeless shelters.
LIFENET is a confidential, toll-free help line for New Yorkers struggling with emotional and substance abuse problems. Trained mental health professionals can help callers find the most appropriate services for their needs. LIFENET is multilingual and multicultural, and it operates 24 hours a day, 7 days a week.
In Spanish: 877-AYUDESE (877-298-3373)
In Mandarin, Cantonese and Korean dialects: 877-990-8585
All other languages: 800-LIFENET (800-543-3638)
##