February 17, 2010 – In a report issued today, the Robert Wood Johnson Foundation ranks counties on various measures of health. As expected, the findings show significant health disparities among counties in most states, including New York. Whether counties are ranked by "health outcomes" (rates of illness and death) or by "health factors" (characteristics that influence health), counties with large minority populations and high rates of poverty consistently rank as less healthy. Among New York City's five counties (boroughs), Manhattan, Queens and Staten Island rank relatively high among the 62 counties in New York State. Brooklyn and the Bronx rank at or near the bottom.
New York City closely tracks health indicators like those used in the Robert Wood Johnson report, along with many others. The Health Department uses the data to devise policies and programs and to monitor their success at narrowing health disparities. The City's health policy initiative, Take Care New York (PDF), has monitored key health indicators over the past four years, and recently set new targets for improving health care, reducing tobacco and alcohol use, reducing disparities, and improving the health of neighborhoods. The agency's three District Public Health Offices – located in Harlem, the South Bronx and Central Brooklyn – work with community residents to address unmet health needs. The Health Department also sponsors programs designed to strengthen families and break cycles of poverty and ill health through strong parenting (e.g., the Newborn Home Visiting program and the Nurse Family Partnership).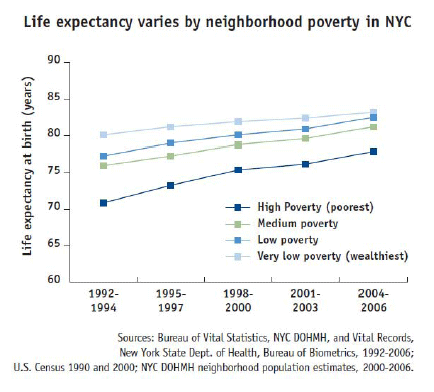 Large challenges remain, as the new report makes clear. But most of the health gaps among New Yorkers have narrowed during the past eight years, and the city's overall health has improved markedly. Life expectancy has risen in all boroughs. Infant deaths and AIDS deaths have declined. And smoking rates have plummeted – a change that will improve health outcomes in the decades ahead. Here is a brief summary of the progress New York City has made in addressing health disparities, and the challenges we face.
Life Expectancy and Premature Death
Neighborhood poverty rates are a strong predictor of life expectancy in New York City. In 2004-2006, life expectancy was 78 years in the city's poorest neighborhoods, compared with 82 in its most prosperous ones. But that gap has narrowed by half since 1992-1994, when it stood at eight years. As the accompanying chart shows, the city's poorest neighborhoods have experienced greater increases than its wealthiest ones since the early 1990s. Both Brooklyn and the Bronx have seen life expectancy increase by a year or more since 2002.
To improve life expectancy, we must ensure that fewer people die prematurely. Black and Hispanic New Yorkers, and those in high-poverty neighborhoods, have long suffered disproportionately from premature death (defined as death before age 65). But the causes of preventable sickness and death are well known, and New York City has mobilized to address them. Take Care New York, the city's comprehensive health policy, focuses specifically on 10 leading causes. Since the launch of the effort in 2004, the city has charted significant progress in most priority areas – and all five boroughs have benefited. Since 2002, both Brooklyn and the Bronx have seen premature death decline by 16%. Here are some examples of the City's efforts and accomplishments:
Reducing Tobacco Use
Smoking remains the leading cause of preventable death in New York City. It causes heart disease, stroke, cancer and many other illnesses. New York City's anti-tobacco efforts – which include public education, cessation services, indoor smoking restrictions and higher cigarette taxes – have helped reduce the citywide smoking rate by 27% (more than 300,000 smokers) since 2002. Adult smoking has declined by 32% in the Bronx during the same period. Since 2003, the Bronx has also seen a 55% reduction in teen smoking.
Promoting Physical Activity and Healthy Eating
Obesity and its attendant health problems take a disproportionate toll on high-poverty areas. City agencies are working on many fronts to make low-income neighborhoods more conducive to physical activity, while improving access to fresh fruits and vegetables.
Improving Heart Health
While working to prevent cardiovascular disease, the Health Department also works to ensure that people with high blood pressure are aware of the problem and motivated to manage it. The agency has teamed up with pharmacies in East and Central Harlem, the South Bronx, and North and Central Brooklyn to provide blood pressure monitoring machines at no cost. Since 2002, deaths from cardiovascular disease have decreased in all five boroughs, including Brooklyn and the Bronx.
Fighting HIV and Other Sexually Transmitted Infections
HIV and AIDS take a disproportionate toll on New York City's minority and low-income communities, but the citywide death rate is falling, and the Health Department is working with a range of community partners to promote prevention, testing and treatment. Since its launch in 2008, the Health Department's "Bronx Knows" initiative has provided voluntary HIV tests to nearly 160,000 Bronx residents, including many of the 250,000 who had never been tested previously. Between 2008 and 2009, HIV testing rose by approximately 28% in the Bronx. Testing can slow the spread of HIV by making people aware of their status. It can also save lives by enabling people with HIV to get timely care and treatment.
Raising Healthy Children
New York City's infant mortality rate has declined by 20% since 1998. Though the citywide rate has reached all-time lows, large disparities persist among New Yorkers of different races and income levels. City agencies are pursuing a range of initiatives to address the remaining disparities. Through the Health Department's Newborn Home Visiting Program, health workers make house calls in low-income communities to help new parents eliminate asthma triggers and correct environmental health hazards such as peeling lead paint. The city's Nurse-Family Partnership goes a step further, providing low-income first-time mothers with regular home visits throughout pregnancy and a child's first two years of life.
Improving Health Care
The Health Department's Primary Care Information Project (PCIP) has developed electronic health records specifically to improve preventive and primary care in the city's most disadvantaged neighborhoods. PCIP is part of an ongoing effort to enhance efficiency, make providers more accountable, and reduce emergency department visits and hospitalizations for preventable conditions. Between 2002 and 2006, the rate of preventable hospitalization among adults fell by 15% citywide, with declines of 4% in the Bronx and 19% in Brooklyn. In addition, New York City has seen increases in the proportion of adults who have a regular doctor. In 2002, 71% of Bronx residents reported having a primary-care physician. By 2008, the proportion had jumped to 81%.
Preventing and Detecting Cancer
One of the most common types of cancer – colorectal – is also one of the easiest to treat at its earliest stages. Colonoscopy screening prevents colon cancer deaths by spotting and treating precancerous lesions before they become life threatening. New York City's colonoscopy rates have increased significantly over the past eight years, and racial and ethnic disparities have virtually disappeared. From 2003 to 2008, the screening rate among New Yorkers 50 and older (at least one exam in the past 10 years) rose from 43% to 62% in the Bronx and from 38% to 63% in Brooklyn.
Working to improve the health of all New Yorkers will take an investment on four fronts: improving access to and the quality of preventive health care, promoting healthy life choices, creating social and physical environments that support healthy living, and reducing the burden of poverty and other social disadvantages. As the new county rankings make clear, much work remains on all of these fronts. That work is under way.