December 17, 2009 – The Board of Health today voted to solicit public comment on a proposal to publicly grade New York City restaurants on their sanitary conditions. Under a new system proposed by the Health Department, restaurants would receive grades of A, B or C, depending on the conditions documented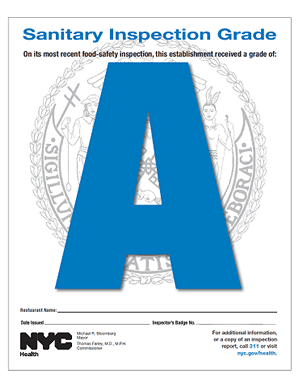 during sanitary inspections. Each establishment would have to post its most recent grade in full view of potential customers – and those receiving Bs and Cs would be inspected more often than those meeting the highest standards for food safety. The new system, which the board could institute by amending the New York City Health Code, would concentrate City resources on the least sanitary restaurants while placing no additional burden on establishments that maintain the best conditions.
The Health Department inspects 24,000 restaurants each year to monitor their compliance with the City's Health Code and to reduce the risk of food-borne illness. By making the results easy to understand – and putting them on public display – the new system would help consumers make more informed choices about where to eat, while giving restaurants a strong incentive to stay clean. Currently, about 30% of the city's restaurants would qualify for A grades, 40% would get Bs and 26% would get Cs.
"Many restaurants in New York have excellent food-safety practices," said Dr. Thomas Farley, New York City Health Commissioner, "but too many operate at the margin. Customers should know how closely restaurants are following health department standards for sanitation before they sit down to eat. When they do, restaurants respond, and that's good for everyone. When Los Angeles instituted a letter grading system, the proportion of restaurants meeting the highest food-safety standards rose from 40% to more than 80%."
The inspection process itself would not change under the new system. Inspectors would continue to assign violation points to restaurants for Health Code violations that affect food safety. Restaurants receiving 0 to 13 violation points would receive A grades. Those with 14 to 27 points would get Bs, and those with more than 28 points would get Cs. Besides posting letter grades near restaurant entrances, the Health Department would make them readily accessible on its website.
A restaurant receiving an A will post its grade card at the end of the inspection. A restaurant receiving a B or C will not be required to post its grade immediately. These establishments will be re-inspected within a month, giving them a chance to improve. The grade from the second inspection will have to be posted, but a restaurant may elect to not post the grade until it has had the opportunity for a hearing at the City's Administrative Tribunal on the Notice of Violation issued at the inspection. While the restaurant's inspection results are under review, the restaurant will post a card indicating that its grade is pending.
Food poisoning causes missed work and school, and thousands of emergency room visits and hospitalizations each year. The Health Department estimates that tainted restaurant food leads to 10,000 emergency room visits and 5,000 hospitalizations in New York City each year. Complaints about food-borne illness have increased in recent years.
A public hearing on the new restaurant grading system will be held on February 5th, and the Board of Health is expected to vote on the measure in March, 2010.
For more information on the proposed restaurant grading system, please visit www.nyc.gov/html/doh/html/notice/notice.shtml.
###