December 14, 2009 – Last summer, the Health Department asked New Yorkers a bold question: Are you pouring on the pounds? The question – accompanied by an eye-catching image of a soft drink turning to blubber as it gushes into a tumbler – has appeared on subway posters, educational brochures and websites since the campaign started in August. Now comes the sequel – a cheeky Internet video that uses similar imagery to show how the empty calories in sugary beverages can add up. Over the course of a year, drinking one soda a day can make you 10 pounds fatter, fostering obesity and contributing to health problems such as diabetes, asthma and heart disease.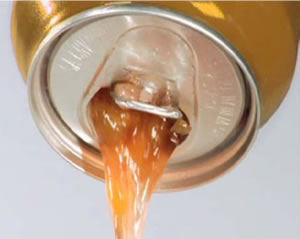 "Sugary drinks shouldn't be a part of our everyday diets," said Dr. Thomas Farley, New York City Health Commissioner. "This video is playful, but its message is serious. Sugar-sweetened beverages are fueling the obesity epidemic, and obesity is disabling millions of New Yorkers. If this campaign shifts habits even slightly, it could have real health benefits."
The new video can be seen at nyc.gov/health. The Health Department is also posting it on YouTube – www.youtube.com/drinkingfat – in the hope that people will share it with friends and relatives.
Americans now consume an average of 200 to 300 more calories each day than we did 30 years ago. Nearly half of that increase comes from sugar-sweetened drinks which can pack as many as 16 teaspoons of sugar in a single 20-ounce bottle. The Health Department's 2007 Community Health Survey found that more than 2 million New Yorkers drink at least one sugar-sweetened beverage each day – adding as much as 250 empty calories to their diets.
To avoid pouring on the pounds, the Health Department urges people to drink water or other no-calorie drinks or low fat milk instead of sweetened beverages. Soda lovers should stick to small portions and make them an occasional treat rather than a daily staple. Coffee and tea are naturally low in calories, even when taken with a dash of milk and sugar, but the beverages sold in coffee chains can pack hundreds of excess calories. Tea drinks, juice drinks and sports drinks are loaded too, so read the nutrition labels when you're buying beverages to stock your fridge, and think twice about products that pack more than 25 calories per 8-ounce serving. For more information on healthy eating and drinking, visit nyc.gov/health/obesity or call 311.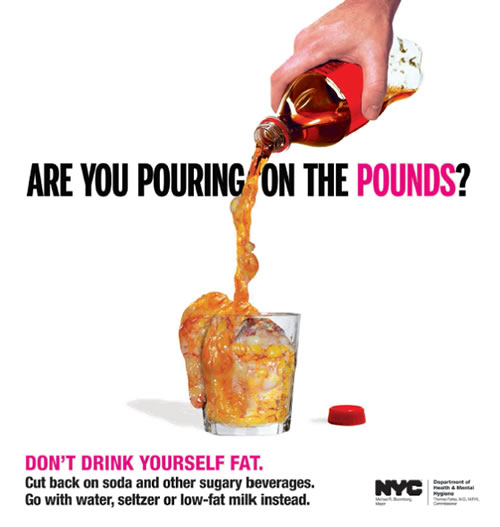 ###