December 3, 2009 – The Health Department and NBC Local Media New York have enlisted Grammy winner Fatman Scoop and his wife, HIV/AIDS counselor Shanda, to help prevent the spread of influenza. In a new series of lighthearted public service announcements, debuting this week on NBC Local Media New York's cable channels, the creators of the "Man and Wife" comedy act share tips on everything from sneeze etiquette to the importance of staying home when you're sick. An additional spot, promote vaccination, is expected soon. The duo previously collaborated with the Health Department on a campaign promote the NYC Condom and stress the importance of safer sex.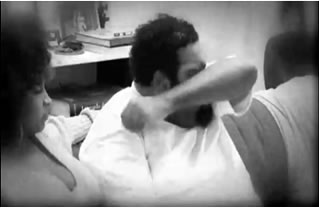 The new public service announcements feature Fatman and Shanda in different situations where germs that could have spread illness get smothered in the crook of an arm, washed down the drain or captured in a face mask. The ads are scheduled to air in regular rotation on multiple platforms of NBC Local Media New York, including WNBC, New York Nonstop and Universal Sports. The public service announcement can also be seen online, at nyc.gov/flu. They were produced by Addictive Networks.
"We're glad to have Fatman and Shanda on our side in fight against influenza," said Dr. Thomas Farley, New York City Health Commissioner. "We know how to prevent influenza, and they know how to make people smile. Their efforts will help ensure that all New Yorkers get the information they need to stay well this winter."
For more information about influenza, please visit nyc.gov/flu or call 311.
###