November 4, 2009 – With H1N1 influenza dominating the headlines, New Yorkers have turned out in record numbers for seasonal flu shots this fall – depleting vaccine supplies and prompting the Health Department to issue new recommendations for vaccination. The agency continues to recommend seasonal vaccine for all children between 6 months and 18 years of age, for all adults 65 and older, and for people with underlying health conditions that increase the risk of complications from influenza. But until vaccine supplies increase, health officials are suspending the recommendation to vaccinate healthy, non-elderly adults. The modified priority list of persons to receive seasonal influenza vaccine is as follows:
Children between 6 months and 18 years of age
Adults 65 or older
People 19 through 64 years of age who have underlying health conditions that increase the risk of complications from influenza*
Pregnant women
Health care workers who have direct contact with patients in the categories above
Caregivers of children less than 6 months old
*Conditions that increase the risk of complications from influenza include diabetes, lung disease, asthma, heart disease, kidney disease, sickle cell anemia, weakened immune system, seizure, neuromuscular, and other disorders that may cause breathing problems.
Seasonal influenza is caused by different viruses than H1N1 and requires a different vaccine. It has not begun to circulate in New York City this fall, but public concern about H1N1 influenza has heightened demand for both types of vaccine. After several weeks of brisk business – some of it driven by new regulations governing the vaccination of health care workers – many pharmacies, clinics and private providers now face diminished supplies.
Data are not available on adult vaccination rates for this season, but new Health Department figures show that children are being vaccinated in record numbers against seasonal influenza. More than 110,000 doses have already been administered to children under 5 years old, and approximately 148,000 doses have gone to children between 5 and 18 years old. These totals represent more than twice the number of immunizations given to New York City children during the same period last year. Similarly, public clinics in New York City have already vaccinated 20% more persons with seasonal influenza vaccine than they did during the entire previous year.
"Some additional supplies of vaccine are expected during November," said Dr. Thomas Farley, New York City Health Commissioner. "But the demand may continue to exceed the supply. The Health Department is taking steps to ensure that the available vaccine is administered to people at high risk for developing severe illness or complications from influenza. These people are either vulnerable to complications from influenza, or likely to infect vulnerable people if they contract influenza themselves. We ask healthy, non-elderly adults who are not health care workers to allow others who are at higher risk to receive vaccine until the vaccine supply increases."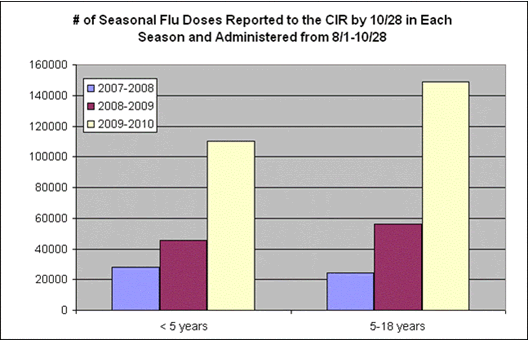 While it is still too early to predict the severity of this year's influenza season, the Health Department is closely monitoring cases of influenza and the agency will continue to provide guidance to healthcare providers throughout the season. "The best weapon against influenza is vaccination," Commissioner Farley said. "Because certain people are at increased risk of complications from influenza, vaccination is especially important for them."
Influenza is a seasonal respiratory infection that causes fever with cough or sore throat and that can cause severe disease. In addition to vaccination, the Heath Department urges people to help prevent the spread of disease by following these simple guidelines:
Cover your mouth and nose when you cough or sneeze. Use a tissue or the inside of your elbow – not your hand.
Wash your hands often with soap and water, especially after you cough or sneeze. Or use an alcohol-based hand cleaner.
Don't get too close to people who are sick. Maintain a distance of 3 feet. If you get sick yourself, avoid close contact with other people.
If you feel sick (i.e., if you have a fever of 100 degrees or higher plus a cough or sore throat) stay at home until you feel better. Most people with flu-like symptoms get better on their own, without medical treatment.
For more information on influenza and sites where people in the priority groups can receive seasonal influenza vaccine, New Yorkers can visit nyc.gov/flu or call 311.
###