October 6, 2009 – Today Deputy Mayor for Health and Human Services Linda Gibbs and Dr. Thomas Farley, New York City Health Commissioner, will visit the Montefiore Medical Center as children and health care workers receive some of the City's first doses of H1N1 influenza vaccine. The event marks the beginning of the city-wide H1N1 vaccination program that Mayor Bloomberg announced last month. The initial allocation – 68,000 doses in nasal spray form – started reaching health care providers in all five boroughs on Monday. The City expects to receive about 1.2 million doses of nasal spray and injectable vaccine by the end of the month, followed by shipments of 2 million doses each month during November, December and January. While vaccine availability may be limited initially, federal officials have assured the City that there will be ample vaccine for all New Yorkers who are recommended to receive it. As more vaccine comes in, people are urged to stay in touch with their primary health care physicians, who can best assess their need to be immunized. 

"All New Yorkers should talk with their primary care physicians, pediatricians or community health clinics to understand when they can receive the vaccine," said Deputy Mayor Gibbs. "We have learned many lessons since last spring, when the H1N1 virus first emerged in the city, and we have developed a strategic plan to reduce the risks of both H1N1 and seasonal flu in all five boroughs."

The novel H1N1 virus caused widespread illness in New York City last spring, infecting an estimated 750,000 to 1 million residents, but transmission dropped to very low levels during the summer and has yet to rebound. Many parts of the country are now experiencing H1N1 outbreaks, but New York City health officials have yet to see evidence of a second surge. The Health Department continually tracks numerous signs of influenza activity, and summarizes its findings in daily and weekly updates on its new influenza portal, nyc.gov/flu.

"We're delighted that the first vaccine has arrived in advance of the virus," Commissioner Farley said, "but no one should assume that H1N1 won't be back. Influenza activity usually increases between December and March, when temperatures and humidity are lower. So we urge people to prepare for it – by getting vaccinated. If you have children between 6 months or older and young adults through age 24 years of age, or if you belong to one of the priority groups for H1N1 vaccination, please don't take a needless risk. Prevent influenza and get vaccinated."

The H1N1 vaccine has been produced in the same way that seasonal flu vaccines are produced every year, and has been tested in clinical trials. The only difference is that this vaccine contains the proteins that help the immune system recognize and combat the H1N1 virus. Like any medical product, influenza vaccines can cause adverse reactions, but those reactions are exceedingly rare. By contrast, influenza and its complications kill 36,000 Americans annually – and approximately 1,100 in New York City alone.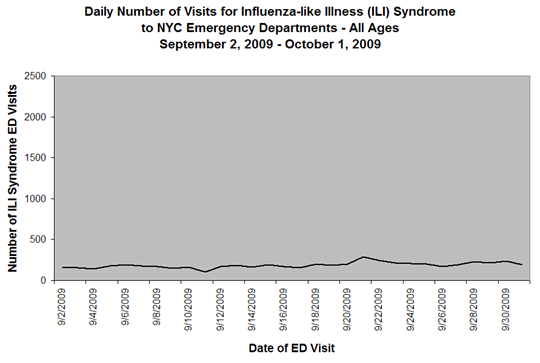 The Health Department emphasizes that the best place for people to be vaccinated is at the office of their regular health care provider. In order to ensure that as many children as possible are vaccinated quickly, the City is also taking the extra steps of offering vaccines in elementary schools and in special weekend clinics. The city-wide, school-based vaccination program is planned to start in late October or early November and will last approximately eight weeks. Weekend clinics for middle-school and high-school children will open in early November at sites in all five boroughs and will continue for approximately five weeks. Parents of elementary school children will soon receive consent forms to sign and return if they want their children to be vaccinated at school.
For more information on influenza, please visit nyc.gov/flu. Information is also available through the city's 311 system.
###