October 1, 2009 – Up-to-date information on influenza and vaccine locations is now just a click away with the launch of a new Web portal that the Health Department announced today. By visiting www.nyc.gov/flu, New Yorkers can now find all influenza-related information – from surveillance data to information on schools and vaccination sites – in one place.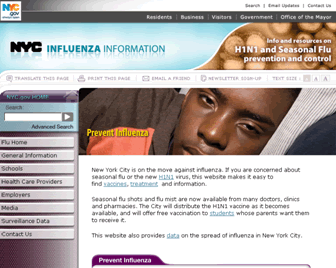 The new Web portal was first detailed in a September briefing that reviewed the City's planning for the fall flu season. The City also announced in the briefing that it will: offer free H1N1 vaccination to elementary school students whose parents want them to receive it; encourage New Yorkers to protect themselves and their loved ones by getting vaccinated; help people with influenza-like illness manage their symptoms and find care; work with hospitals to ensure the availability of expanded emergency room capacity if it is needed; and identify primary-care clinics that will give flu shots, information and outpatient care.
Key features of the new influenza Web portal launched today include:
Seasonal Flu Vaccine locator
New Yorkers can search by borough or zip code for the nearest location offering the seasonal influenza vaccine. The vaccine locator is designed as a widget that any organization can place on its own web site to help New Yorkers find a place to get vaccinated.
H1N1 Vaccine & Treatment Locator
The Web portal will have an H1N1 vaccine locator once it becomes available in the city. Within the next few weeks, the portal will also feature a locator to guide users to diagnostic and treatment centers throughout the city.
Influenza tracking data
The Health Department continually tracks the rate of influenza-like illness, and the presence of different influenza strains in New York City. Anyone visiting the new portal can view this information in a series of easy-to-read charts and graphs. The portal also offers up-to-date educational materials – including medical alerts, health bulletins, posters and flyers – targeting various audiences, including medical providers, school officials, employers, community groups and the media.
School updates
A searchable database of school-specific information on influenza-like illness and attendance on the previous day is available as well. In a daily public report, the new Web portal lists schools reporting five or more cases of influenza-like illness on the previous day. The daily school report also shows the previous day's absentee rate for every public school, though absenteeism is not by itself a measure of influenza activity.
Downloadable Flu Widgets
Organizations can now have up-to-date influenza information on their web sites, blogs and social networking pages by adding code for the web portal's two widgets to their sites. One widget allows other web sites to convey the City's influenza updates directly to their own users. The second widget directly connects users to New York City's seasonal-flu vaccine locator. This widget can be customized by width and color to accommodate different web sites. The new portal also offers an RSS feed for individual subscribers. For more information, visit the portal's widgets page.
###