September 1, 2009 – The Health Department today urged all New Yorkers to protect themselves from influenza this fall, by getting vaccinated early. The vaccine for seasonal influenza is now being distributed to health care providers – and federal health officials predict that a separate vaccine to protect against the novel H1N1 virus will begin to arrive by mid- to late-October. The Health Department is developing a subway advertising campaign to ensure that people are aware of the benefits of vaccination, and the agency will soon launch an online locator at www.nyc.gov/flu, which anyone can use to find a nearby source of vaccine.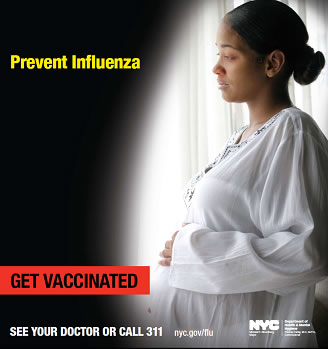 Influenza is a seasonal respiratory infection that causes fever with cough or sore throat. Seasonal influenza viruses claim an estimated 1,100 lives every year in New York City, yet vaccination could prevent many of those deaths. Anyone who wants to avoid seasonal flu should get vaccinated this fall. The vaccine can be given by injection or in a nasal spray called FluMist® (for healthy people aged 2 to 49), and it's typically available from September through June – through primary-care physicians, New York City immunization clinics, federally qualified health centers, and (for adults) some commercial pharmacies. By late September the City's influenza website (www.nyc.gov/flu) will feature a locator – searchable by borough or zip code – that anyone can use find a nearby site where vaccine is available.
The seasonal flu vaccine is especially important for people in these groups.
Children aged 6 months to 18 years
Pregnant women
Health care workers
People aged 50 and older
People with long-term health problems
People in nursing homes and other long-term-care facilities
Household members and caregivers of children under 5 – especially infants younger than 6 months. (Babies this age can get the flu, but are too young for a flu shot.)
People living with or caring for others who are over 50
People living with or caring for others who have long-term health problems
H1N1 influenza is clinically similar to seasonal influenza, but because it is caused by a novel virus to which many people lack immunity, it can spread rapidly, especially among children. The seasonal influenza vaccine does not provide immunity against H1N1 infection, so New Yorkers wanting protection will need to get a separate vaccine when it becomes available this fall. Like the seasonal vaccine, the H1N1 vaccine is expected to be available by injection or nasal spray. People will probably need two doses of the H1N1 vaccine, given at least three weeks apart. The Health Department and the Department of Education plan to make H1N1 vaccine available to school students when supplies are in hand.
Because certain people are at increased risk of complications from H1N1 influenza, vaccination is especially important for them. In addition to receiving a seasonal flu vaccination, the following people should receive the H1N1 vaccine as soon as it becomes available:
Pregnant women
People aged 6 months to 24 years
People aged 25 to 64 years with long-term health problems
People who live with or care for children younger than 6 months
Health care and emergency medical workers
Once demand for these high priority groups is met, the CDC recommends that everyone from 25 through 64 years be vaccinated against H1N1. After this wave of vaccinations, those 65 years and older are encouraged to be vaccinated. More details are available at www.cdc.gov/h1n1flu/.
Where to find influenza vaccine
Health care providers can administer vaccine, and many pharmacies are expected to offer flu vaccinations for adults.
Many employers offer free or low-cost vaccinations.
Uninsured and underinsured New Yorkers can get free flu vaccinations at Health Department immunization clinics, at some community health centers, and at designated Health and Hospitals Corporation flu centers.
Before and after the vaccine is available, the Heath Department urges people to help prevent the spread of germs by following these simple guidelines:
Cover your mouth and nose when you cough or sneeze. Use a tissue or the inside of your elbow – not your hand.
Wash your hands often with soap and water, especially after you cough or sneeze. Or use an alcohol-based hand cleaner.
Don't get too close to people who are sick. Maintain a distance of 3 feet. If you get sick yourself, avoid close contact with other people.
If you feel sick (i.e., if you have a fever of 100 degrees or higher plus a cough or sore throat) stay at home until you feel better. Most people with flu-like symptoms get better on their own, without medical treatment.
Stay home from work or school until you have felt completely well for 24 hours.
###