September 1, 2009 – The Health Department today outlined the multi-tiered system it will use to track influenza activity in New York City this fall and winter. New Yorkers could face two types of influenza if seasonal viruses return accompanied by the novel H1N1 virus that affected the city last spring. It is impossible to predict the timing or extent of either infection, but the Health department plans to monitor both. The agency will track overall rates of influenza-like illness by collecting daily reports from hospital emergency departments. At the same time, it will monitor patients visiting a sample of hospitals and clinics to determine which influenza viruses are circulating, assess the severity of novel H1N1 influenza, and identify populations at higher risk of complications. By posting daily and weekly updates on a new influenza website – www.nyc.gov/flu – the City will ensure that doctors, patients and policy makers have access to all the latest surveillance.
Tracking Symptoms. An increase in visits to hospital emergency departments is often an early sign of influenza's arrival. By pooling electronic reports on emergency department visits from 50 hospitals throughout the city, the Health Department will get a daily indication of how many New Yorkers are seeking care for influenza-like illness (ILI) – typically a fever accompanied by cough or sore throat. This "syndromic" surveillance does not reveal the causes of people's symptoms, as other illnesses (such as strep throat or the common cold) can cause influenza-like illness. A sustained increase in ILI, accompanied by laboratory evidence that influenza viruses are present in the city, suggests that widespread transmission is occurring. Starting in mid-September, the Health Department will post counts of ILI emergency department visits at www.nyc.gov/flu every weekday, in this format:
Hospital Emergency Department Visits


| Date | EDs reporting | Total ED visits | Total ILI visits |
| --- | --- | --- | --- |
| 9/15 | | | |
| 9/16 | | | |
| 9/17 | | | |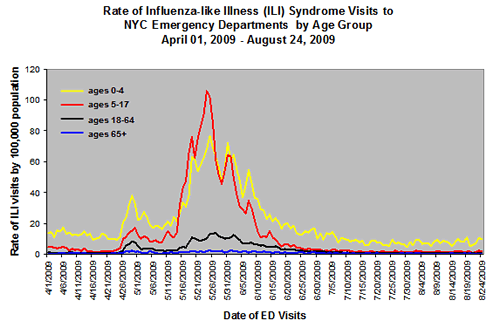 Once a week, the Health Department will compile additional indicators to create a more detailed report on influenza activity in New York City. The weekly update, to be posted online by noon every Friday, will include a timeline that graphically depicts trends in emergency room visits, breaking them down by age group (see above) and by borough. Here are some additional measures the weekly update will include: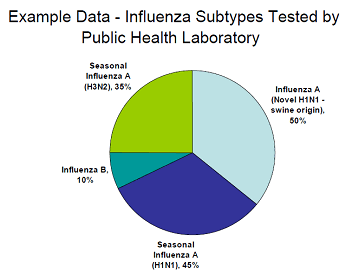 Monitoring hospital admissions. What proportion of the people seeking treatment for ILI in emergency departments are sick enough to require hospitalization? Which viruses are currently circulating? And are there changes in characteristics or conditions that make certain people more likely to experience severe illness due to novel H1N1? To get at these issues, the Health Department will track admissions for ILI from hospital emergency rooms. At a subset of five "sentinel" hospitals – one in each borough – the Department staff will identify and test all patients hospitalized overnight with influenza-like illness. Patients testing positive for influenza will receive additional tests that can distinguish novel H1N1 influenza from seasonal strains.
Tracking Deaths. Every year, approximately 2,000 New Yorkers die from pneumonia and influenza. This combined category – a standard designation used by vital registries –includes pneumonia deaths not caused by influenza. But the weekly number of "P&I" deaths follows a seasonal pattern driven largely by the ebb and flow of influenza. If this fall's P&I pattern diverges from the usual one, the difference may reflect differences in the types of influenza viruses circulating, or in the severity of illness that one or more of them causes. The Health Department's weekly influenza update will include a graph comparing the current P&I trend to those for the past two years. The example below shows how last spring's H1N1 outbreak caused a rise in P&I mortality.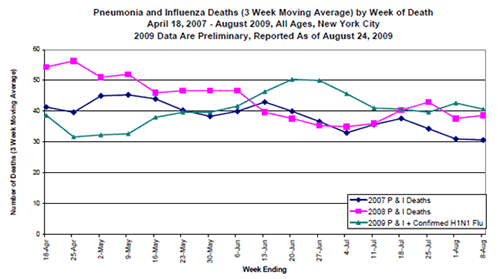 Besides tracking P&I deaths, the Health Department will report the weekly number of deaths caused by influenza, using reports from health care providers or laboratories. Just as the P&I measure can exaggerate the impact of influenza, these counts may underestimate it, because many people with influenza are not tested and because influenza testing may miss some cases. Together, these two measures provide the fullest possible picture to help the Department track influenza-related mortality.
Influenza Deaths in New York City


Newly identified
(past week)
Cumulative to date (since September 1)

< 65 years

> 65 years
While monitoring these indicators, the Health Department will also conduct monthly city-wide telephone surveys to gauge the prevalence of influenza-like illness among all New Yorkers, including those who don't seek medical care. For facts about influenza, and more information about H1N1, please visit www.nyc.gov/flu.
###