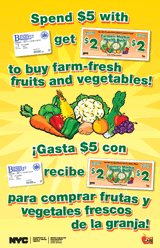 July 20, 2009 – Buying fresh fruits and vegetables just got easier at New York City's farmers' markets. The Health Department and Human Resources Administration (HRA) announced today that they will disburse some 100,000 Health Bucks this summer and fall, up from 15,000 two years ago.
Health Bucks are $2 coupons that can be redeemed for fresh fruits and vegetables at participating farmers' markets. The Health Department and HRA make Health Bucks available through participating farmers' markets to help Food Stamp recipients enjoy the benefits of fresh fruits and vegetables. For every $5 in Food Stamps spent by a customer at a participating farmers' market, she or he will receive a free $2 Health Buck, while supplies last. This year 49 farmers' markets will participate in the Health Bucks program. For a list of participating markets, visit www.nyc.gov/healthbucks. A smaller number of Health Bucks will be distributed by more than 170 community organizations targeting neighborhoods plagued by high rates of poverty and chronic disease and low rates of fruit-and-vegetable consumption.
"Besides being delicious, fresh fruits and vegetables can improve your health and reduce your risk of diabetes, high blood pressure and heart disease," said Dr. Thomas Farley, New York City Health Commissioner. "The Health Bucks program is one of the many ways the City is working to help make New Yorkers' everyday environments more conducive to good health."
"Among HRA's chief priorities is supporting working New Yorkers who are having trouble making ends meet," said HRA Commissioner Robert Doar. "The Food Stamp Program, which helps individuals buy nutritious food for their families, has proven to be a key element of this strategy. Health Bucks enhance our efforts by allowing families to buy even more healthy food. Last year, Health Bucks resulted in the tripling of Food Stamp use at participating farmers' markets. We are happy to join in this successful program."
"The Health Bucks program helps the City achieve three important food policy objectives," said New York City Food Policy Coordinator Ben Thomases. "Health Bucks provide low-income families with additional resources to purchase food, they encourage families to spend their Food Stamp dollars on fresh produce, and they support farmers' markets in neighborhoods that are underserved by fresh food retailers." Farmers participating in the Health Bucks program report significant increases in their income as a result of more customers visiting their markets. Many state their income has more than doubled as a result of their participation in the program.
"Eating fresh produce is a vital part of healthy living," said Pastor Aprele Elliot of the Mt. Paran Baptist Church, a distributor of Health Bucks in Bushwick, Brooklyn. "We encourage all our community members to eat fresh fruits and vegetables, and the Health Bucks program allows us to put our money where are our mouths are."
This year, the Health Department is also launching Stellar Farmers' market, a nutrition-related effort to complement the Health Bucks program. Through this program, trained nutritionists will offer free cooking classes at participating locations throughout the market season. The goal is to show just how quick and easy it is to make healthy, appetizing dishes from fresh fruits and vegetables. Visit www.nyc.gov/healthbucks for a list of participating markets.
About the City's Food Stamp Program
More than 1.5 million New York City residents participate in the federal Food Stamp Program. The City's efforts to improve access to the program include shortening the application and simplifying the application process; translating our material into multiple languages (Spanish, Russian, Korean, Mandarin, Haitian, Creole and Arabic); automatically enrolling recipients of Supplemental Security Income (SSI) into the program; working with community-based organizations to facilitate electronic applications; allowing employed people to apply by telephone to avoid lost work time; and allowing SSI recipients and eligible seniors to recertify by mail.
About Health Bucks
The Health Bucks program started in 2005 as a pilot program in the Bronx and expanded in 2006 to all three District Public Health Office areas – the South Bronx, East and Central Harlem, and North and Central Brooklyn. The Health Department works in collaboration with the Human Resources Administration, the New York State Department of Agriculture and Markets, and community-based farmers' markets and organizations on the Health Bucks program.
Health Bucks are tracked through unique serial numbers that can be traced back to the originating farmers' market, community-based organization, or site. The Health Department pays only for Health Bucks that are redeemed. Participating farmers' market vendors and community groups are trained to collect and redeem Health Bucks, and the Health Department monitors all participating sites throughout the season to ensure program compliance. The Health Department also provides a list of suggested best practices to promote higher redemption rates.
For more information or a list of participating farmers' markets, visit www.nyc.gov/healthbucks. Most farmers' markets are open from July through mid-November.
###