June 24, 2009 – The Board of Health today voted to solicit public comment on a Health Code amendment requiring all tobacco retailers in New York City to prominently display point-of-sale warnings and cessation messages. The required signage would be developed by the Health Department and may include graphic images to depict the adverse heath effects of tobacco products, as well as provide information about how to quit.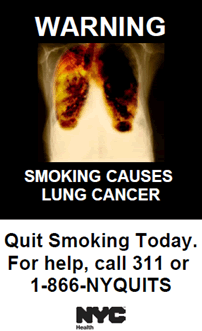 "Smoking continues to be the leading cause of preventable death in New York City," said Dr. Thomas Farley, New York City Health Commissioner. "While the tobacco industry spends billions of dollars every year to glamorize smoking, we will show New Yorkers the harsh realities. These warning signs will help persuade smokers to quit and show children why they shouldn't start to smoke."
The proposed measure would require retailers to post the warnings wherever tobacco products are displayed, and also at the cash register or point of purchase. This ensures that any customer contemplating a tobacco purchase visually sees the health effects of tobacco use.
Last year New York City achieved its lowest adult smoking rate on record (15.8%), but about 950,000 New Yorkers still smoke – and tobacco-related illness still claims more than 7,400 lives in the city each year. Smoking kills more New Yorkers than AIDS, drugs, homicide and suicide combined.
The Health Impact of Point-of-Sale Warnings
Smokers' health behaviors are strongly influenced by their understanding of the related health risks; studies show that those who perceive greater hazards are more likely to consider quitting. Health warnings, like those proposed by the Health Department today, are one of the most effective prompts to get people to quit.
Besides encouraging smokers to quit, the proposed warning rule will help discourage underage smoking – by educating youth about the dangers of tobacco and counteracting the point-of-sale advertising by the tobacco companies. Most smokers start during adolescence, and two-thirds become daily smokers by the age of 19. City and state laws bar tobacco sales to anyone under 18, yet many minors purchase tobacco illegally from licensed retailers.
A public hearing on the new warning rule will be held on July 30th, and the Board of Health is expected to vote on the measure in September. The proposal is available online at: www.nyc.gov/html/doh/html/notice/notice.shtml.
For more information on the proposed health warnings, please visit: www.nyc.gov/html/doh/html/smoke/smoke.shtml.
For help quitting smoking, visit www.nyc.gov/quitsmokingtoday.
###