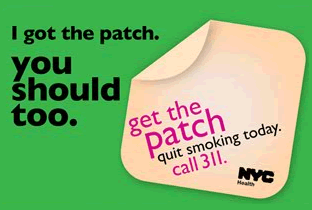 April 21, 2009 – The Health Department today announced it will launch a two-week Nicotine Patch and Gum Giveaway Program tomorrow to help New Yorkers quit smoking. The campaign features new TV spots in which Marie, a former Bronx smoker, recounts losing portions of her fingers, a leg and a part of one foot to smoking-related illness. This is the second year Marie and the Health Department have teamed together to help New Yorkers quit. Last year's campaign prompted 30,000 calls to 311 for nicotine replacement therapy. This year's campaign will run for a limited time only – from tomorrow, April 22 through May 7.
Marie and the Health Department are taking their quit message online this year with an interactive Facebook page – www.facebook.com/nycquits – that will go live on Wednesday. Anyone can help a friend or family member quit by sending a friendly electronic reminder – an e-patch that urges the recipient to call 311 for a free course of nicotine replacement therapy. You can also send an e-patch from the Health Department's homepage at www.nyc.gov/health. Smokers and former smokers can go to the Facebook page to share stories and tips on quitting smoking.
"This year, cigarettes will kill more than 7,000 New Yorkers and harm thousands more," said New York City Health Commissioner Dr. Thomas R. Frieden. "Smoking causes thousands of New York City smokers to have strokes, heart attacks, and amputations every year. We urge all New Yorkers to listen to Marie's story and take action. Anyone who wants help can get it. I encourage all smokers to call 311 today."
"Sixty-thousand times a day and sixteen million times per year, 311 helps New Yorkers in very real ways – with everything from noise complaints to comprehensive human services information and referral," said Paul J. Cosgrave, commissioner of the City's Department of Information Technology. "But among the most rewarding things we do is help our callers help themselves, and there's no better example than our partnership with the Health Department for its annual Nicotine Patch and Gum Program. No matter the hour, no matter the language, the time to quit smoking is now. Give us a ring and we'll be there to answer the call."
Like most smokers, Marie got hooked as a teenager. She later developed Buerger's disease, a smoking-related condition that narrows arteries and reduces blood flow to the arms and legs. Besides causing constant pain, the disease and resulting amputations have diminished her ability to perform simple, everyday tasks.
The Health Department's program helped Marie beat her addiction in 2006, and she hopes her story will help other New Yorkers quit. "Quitting smoking is hard," Marie said. "I know because I tried more than once. Calling 311 saved my life, and I want to keep telling my story so I can help save someone else's."
New York City smokers now pay $9 or more for a pack of cigarettes due to a 62-cent federal excise tax increase that went into effect on April 1. As many as 20,000 adult New Yorkers are expected to quit smoking as a result of the measure – a response that would prevent more than 6,000 premature deaths.
Quitting can be tough, but nicotine patches and gum can double your chances of success. Here are some tips to make quitting smoking easier:
Prepare yourself. Make a list of your reasons for quitting and plan for situations that may tempt you to smoke.
Pick a quit date. Get rid of ashtrays and lighters, and all cigarettes.
Make your home and car smoke-free. It is healthier for others and will help you resist smoking.
Get support and encouragement. Tell your family, friends, and co-workers that you are quitting and ask for their support.
Get a quit buddy. Ask a smoker to quit with you, or find someone who has already quit who you can talk to for support.
More information on quitting smoking is available at www.nyc.gov/health/smokefree.
###