March 5, 2009 — The Health Department's Web-based food safety course is now available online free-of-charge in Spanish and Chinese, making it easier for restaurant supervisors with busy schedules to take the necessary food protection course. Under the New York City Health Code, every food-service establishment — whether it's a restaurant or an institutional cafeteria — must have a certificate holder present during business hours to ensure food safety.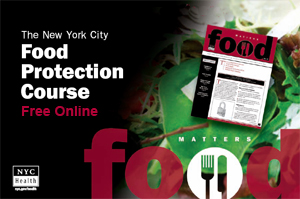 The online course, available at nyc.gov/foodprotectioncourse, consists of 15 lessons covering food safety topics such as health hazards, food-borne illness and pest control. It also includes an overview of the restaurant inspection process. Anyone can register for the course and complete it online free-of-charge.

"Food-safety training is vitally important," said Dr. Thomas R. Frieden, New York City Health Commissioner. "There is no charge to take the course, and it is readily available in Spanish, Chinese and English. We encourage all restaurant supervisors to log on and complete the course online."

Each of the 15 lessons takes about an hour to complete. The participant must pass a quiz at the end of each lesson before moving ahead, but can repeat a lesson as many times as necessary. After completing all 15 lessons, the participant selects a date to take the final exam, which is administered at the Health Academy in three languages. Anyone who completes the course and passes the final exam receives a food protection certificate.
For those who prefer a classroom setting, the course is available in Spanish, Chinese, Korean and English at the Health Academy. For more information, visitnyc.gov/foodprotectioncourse or call 311.
###