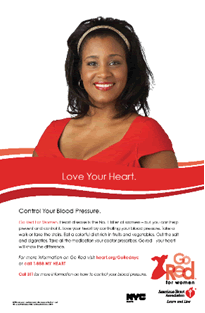 February 5, 2008 – The Health Department will join the American Heart Association on Friday, February 6th, to observe the Go Red for Women and National Wear Red Day, a day of action aimed at raising awareness about New York City's leading cause of premature death. Many women don't realize that heart disease kills more women than any other cause, far exceeding breast cancer. In New York City, heart disease accounts for 42% of all female deaths, claiming 10,000 women's lives each year,
The Empire State Building will glow red in honor of the effort. Dr. Thomas R. Frieden, New York City Health Commissioner, will join City Council Speaker Christine Quinn and other dignitaries in a Friday morning ceremony to illuminate the building with a flip of the switch. In addition, posters urging women to love their own hearts will be posted at faith organizations, firehouses, and other community locations. For more information on the campaign, visit heart.org/GoRednyc.
"Heart attacks and strokes are preventable," said Dr. Thomas R. Frieden, New York City Health Commissioner. "By controlling the known risk factors – smoking, obesity, high blood pressure and high cholesterol – women can improve and extend their lives."
"The American Heart Association is proud to partner with the New York City Health Commissioner, Dr. Thomas R. Frieden, and the Health Department," said Dr. Richard Hodosh, President of the American Heart Association's New York City Division. "Together, our joint efforts can save more New York City lives as we continue to fight the No. 1 and No. 3 killers, heart disease and stroke."
The Health Department and the American Heart Association are calling on New Yorkers to take simple, proven steps to reduce their risk:
Love your heart by controlling your blood pressure.
Take a walk or take the stairs.
Eat a colorful diet rich in fruits and vegetables.
Cut the salt and cigarettes.
Take all the medication your doctor prescribes.
Deaths from cardiovascular disease have declined markedly over the past decade, yet a third of U.S. adults still suffer from some form of heart disease, and another life is lost every 37 seconds. Some 22,000 New Yorkers died from heart disease in 2007 alone, and 16% of them were less than 65 years old.
Heart disease basics
Smoking, obesity, high blood pressure and high cholesterol are well known causes.
Low-income women and black and Hispanic women are more likely than others to experience cardiovascular disease.
People can often improve their blood pressure and cholesterol by eating better, getting more exercise, and giving up smoking.
When these lifestyle changes don't result in enough improvement, safe and effective medications are available.
"If you have high blood pressure, taking your medicine is critical," said Dr. Frieden "And if you smoke, quitting will reduce your risk of a heart attack almost immediately."
The Health Department's efforts to promote heart health include:
Reducing smoking: By making smoking less appealing and making it easier to quit, the Health Department has drastically reduced smoking in New York City. There are 189,000 fewer women smoking today now than in 2002 in New York City – a 30% decline.

Cutting the salt: The Health Department is leading a voluntary, nationwide effort to reduce the salt levels in processed and restaurant foods. If salt levels are reduced by half over the next decade, as proposed, 150,000 premature deaths will be prevented every year.

Easy blood pressure checks at your pharmacy: The Health Department has installed blood pressure machines in neighborhood pharmacies in the South Bronx, North and Central Brooklyn and East and Central Harlem so that New Yorkers with high blood pressure can drop in and check their own readings close to home.

Eliminating artificial trans fat from restaurants: The New York City Board of Health adopted a regulation in 2007 to remove this artery-clogging compound from foods served in restaurants. By July 2008, New York City's restaurants were trans-fat-free.

Improving access to fresh fruits and vegetables: Through the Health Bucks program, the Health Department subsidizes the purchase of fruits and vegetables from farmers' markets, mostly for families using food stamps. And through New York City's Green Carts program, 1,000 more mobile food carts will sell fresh produce from street corners in neighborhoods where New Yorkers have little access to them.

Promoting Physical Activity: The Health Department and the Department of Parks and Recreation offer free Shape Up New York workout classes. The Health Department also works to increase physical activity in daycare and encourage all New Yorkers to take the stairs through the NYC Stair Prompt campaign.
###