September 10, 2008 – A new analysis from the World Trade Center Health Registry provides the most comprehensive picture yet of how 9/11 affected enrollees' physical and mental health two to three years after the disaster. The report – released by the Health Department in the Journal of Urban Health, also includes the first estimates of respiratory health problems among lower Manhattan workers and residents from the registry, indicating that both groups suffered new cases of asthma.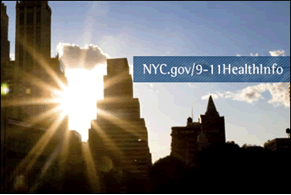 The new analysis examines health effects among all 71,437 participants of the World Trade Center Health Registry – an estimated 17.4% of the people whose exposure to the disaster would have made them eligible to enroll. The registry includes rescue and recovery workers, Lower Manhattan residents, area workers, commuters, and passersby.
Overall, half of the registrants reported being in the dust cloud from the collapsing towers; 70% witnessed a traumatic sight, such as a plane hitting the tower; and 13% sustained an injury that day. The survey found that, two to three years after these experiences, 3% of all adult enrollees reported they had developed new asthma, 16% likely had posttraumatic stress disorder, and 8% had severe psychological distress. The rate of new asthma was highest (6%) among rescue and recovery workers who worked on the debris pile on 9/11, while the PTSD rate was highest among injured (35%), low-income (31%) and Hispanic (30%) enrollees. In general, minorities and low-income enrollees experienced higher rates of mental and physical problems, as did women.
"The health impact of 9/11 reached far beyond the deaths and injuries that occurred that day," said Lorna Thorpe, Deputy Commissioner for Epidemiology at the Health Department. "But many of the health issues that have emerged, such as asthma and PTSD, are treatable. Free treatment is available. Anyone still in need of help should call 311 or visit nyc.gov."
How many people were affected?
While it is difficult to pinpoint the total number of people sickened by the 9/11 attacks of the World Trade Center, the new analysis includes estimated ranges. Slightly more than 400,000 people were heavily exposed to the disaster based on registry criteria. The new data suggest that 35,000 to 70,000 people developed PTSD, and 3,800 to 12,600 people may have developed asthma as a result of 9/11.
Health among workers and residents in Lower Manhattan
Two to three years after the event, 3% of Lower Manhattan adult residents and workers had developed asthma, according to the new analysis – twice what is believed to be the baseline rate of development of asthma over that period. Asthma was more prevalent among adult residents who did not evacuate on 9/11 (3.7%), or who returned to homes within two days (3.6%), compared to those who stayed away until December (2%). The same pattern was seen among downtown workers who returned within days of the disaster (3.5%) and passersby who happened to be in lower Manhattan the morning of the attacks (3.6%). Rates among all three groups are similar to those previously published for rescue and recovery workers and volunteers.
Past findings have shown elevated PTSD rates among adult residents of Lower Manhattan, but the new findings provide additional insight. Residents and downtown workers who couldn't – or wouldn't – return to lower Manhattan for months after the attacks reported higher PTSD rates than those who did not evacuate (20% or higher for both). Both findings are expected because PTSD sufferers tend to avoid the site of their traumatic experience.
"These data show that rescue and recovery workers were not the only groups affected," said Dr. Mark Farfel, Director of the World Trade Center Health Registry. "Living and working near the WTC site also put people at risk of health problems."
About World Trade Center Health Registry research
The Health Department recently completed a follow-up survey that examined enrollees' health issues five to six years after 9/11. The findings will be released in coming months. The Health Department is also collaborating with the WTC Environmental Health Center at Bellevue Hospital to further assess respiratory health among people affected by the attacks.
The registry was launched in 2003 to track the physical and mental health effects of 9/11. Because of its size, it can highlight patterns that would elude individual physicians. The registry is the largest public health registry in U.S. history and aims to track people's health for the next 20 years. It is a collaborative effort of the Health Department and the CDC's Agency for Toxic Substances and Disease Registry. Previous registry findings as well as updated treatment guidelines for physicians can be found at www.nyc.gov/9-11healthinfo.
Help is Available
New Yorkers seeking assessment and care can call 311 or visit www.nyc.gov/9-11healthinfo.
New York City has three Centers of Excellence that offer free, integrated physical and mental health care to eligible people affected by the collapse of the World Trade Center:
The WTC Environmental Health Center provides services at Bellevue Hospital Center and Gouverneur Health Care Services (both in Manhattan) and at Elmhurst Hospital Center (Queens).
The Mount Sinai Consortium provides services through the WTC Medical Monitoring and Treatment Program.
The Fire Department of New York participates in the Medical Monitoring and Treatment Program.
The Health Department will also reimburse out-of-pocket costs for mental health or substance-use treatment through a claims process similar to any insurance benefit. New York City residents and city workers in surrounding areas may be eligible.
###