August 29, 2008 – Don't let asthma slow you down this fall. Hospitalization rates for childhood asthma can more than triple between August and September, as weather changes, kids spend more time indoors, and respiratory infections become more common. In anticipation of this year's asthma upsurge, the Health Department is urging parents of affected children to work with their health care providers to get the right medications before the school year starts. Inhaled corticosteroids are the most effective treatment for children with persistent asthma.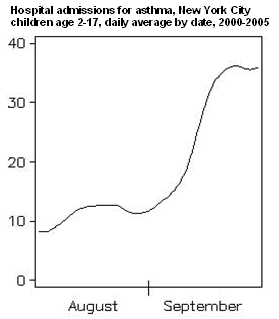 To protect children with asthma, parents should arrange an asthma check-up before fall arrives. Many children need to switch medications in the fall to cope with seasonal triggers. Most common allergy medications do not prevent asthma attacks and are no substitute for the right prescribed asthma medication.

"Children with asthma can encounter more asthma triggers in the fall," said Lorna Davis-Robinson, director of the Health Department's Asthma Initiative. "To avoid letting asthma cause illness and unnecessary school absence, parents should consult with their child's health care provider now. The right treatment can help ensure that your child has the healthiest possible school year."
Asthma Action Plan
If your child has asthma, the child's doctor should write an Asthma Action Plan to help manage the condition at home and at school. The plan will specify the medications and other steps needed to prevent and treat symptoms. Every school-aged child with asthma should also have a Medication Administration Form (MAF) completed by a doctor. The MAF allows the child to take asthma medications at school when necessary. It's important to maintain an adequate supply of medications that either you or your child can administer properly. And don't forget to request a flu shot for your child when you schedule the asthma check-up.

Parents can also help prevent asthma episodes by:
Teaching children good hand-washing habits to reduce the spread of infections.

Keeping children away from cigarette smoke, in your home or car. If you smoke, get help to quit. See the new "How to Make Your Home Smoke-Free" Health Bulletin at: www.nyc.gov/html/doh/downloads/pdf/public/dohmhnews7-08.pdf

Using an air conditioner when pollen or pollution is bad (don't forget to clean the filter frequently) and keeping windows closed if you can. For an air quality forecast, visit the Department of Environmental Conservation at www.dec.ny.gov/cfmx/extapps/aqi/aqi_forecast.cfm

Getting rid of roaches, a common asthma trigger. See how to at: www.nyc.gov/html/doh/downloads/pdf/pest/pest-bro-healthy-home.pdf

Finding new homes for furry pets and birds if your child is allergic to them. If you cannot give a pet away yet, then keep it out of the bedroom at all times.
Health Department Asthma Programs
The Department's East Harlem Asthma Center of Excellence aims to reduce asthma-related hospitalizations by half by 2010. While working to open a new East Harlem Walk-In Center next year, the agency is providing outreach and education in the community, and providing case-management services to more than 100 families. The Center's staff works with East Harlem health care providers to improve asthma management.

The Department's Community Integrated Pest Management Program (IPM) works with pest-control agencies and community partners to eliminate cockroaches and mice, common asthma triggers in low-income apartments.

The Asthma Training Institute offers regularly scheduled courses on asthma, including self-management and other clinical topics for New York City medical providers, educators, social workers, nurses, community health workers and homeless shelter workers. The program also distributes free educational materials, including Asthma Action Plans, posters, and brochures.

Managing Asthma in Schools helps improve and coordinate health care for asthmatic children in public elementary schools. The program also provides asthma training to school nurses and physicians and works to improve communication between school health clinicians and community providers.

Managing Asthma in Daycare tracks and coordinates care for asthmatic children in 180 New York City Early Childhood Programs. The project targets neighborhoods with consistently high rates of asthma hospitalization among children: East and Central Harlem, North and Central Brooklyn, and the South Bronx.

For more tips on how to manage asthma, visit www.nyc.gov/html/doh/html/asthma/atake.shtml.

###