Fireworks-Related Injuries
(2000-2005)

Fatalities:
NYC: 0
US: 38

Hospitalization rate per million residents:
NYC: 1.4
US: 1.9

NYC Hospitalization rate per million children:
Boys: 6.2
Girls: 1.6

Hospitalization rate per million children by NYC borough:
Brooklyn: 2.8
Manhattan: 3.2
Bronx: 5.6
Queens: 6.2
Staten Island: 10.3

Type of Injury:
Open wounds: 40%
Burns: 35%
Broken bones: 13%
Other: 12%

Site of Injury:
Arms/hands: 64%
Face/eyes: 19%
Other: 17%

July 3, 2008 – Fireworks are festive and fun, but trying to put on a show at home can be dangerous. A review of the 69 fireworks-related hospitalizations that occurred in New York City between 2000 and 2005 shows two-thirds (67%) of the patients were children. School-aged boys were four times more likely than girls to get hurt. Even among adults, men are more than three times as likely as women to be injured in a fireworks-related mishap. The fireworks injury rate has fluctuated from year to year and is slightly lower in New York City than the nation. No one has been killed by fireworks in the city in recent years.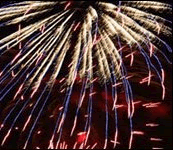 More than half of the child injuries (60%) occurred in Staten Island and Queens, even though only 32% of school-age children live in these boroughs. Wounds were the most common injury caused by fireworks, followed by burns and broken bones. Most people injured their arms and hands, likely because they were holding a firework when it detonated; others were struck in the face or eyes. While the average hospital stay was three days, many of the injuries were more serious. The consequences included blindness, amputation and third-degree burns. It is estimated that at least a hundred additional New Yorkers suffer less severe injuries each year which may land them in the emergency room, but don't require hospitalization.
Don't Try This at Home
"New York City has the best fireworks show in the world," said Dr. Thomas R. Frieden, Health Commissioner for New York City. "Instead of setting off fireworks at home, go see a professional display. It's more exciting – and it's safe."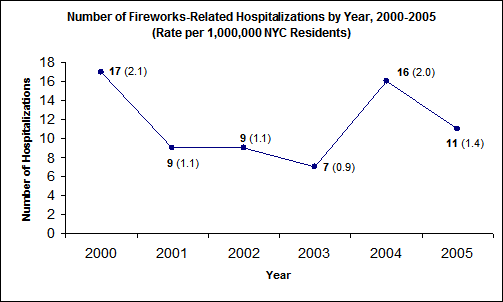 ###