NEW YORK CITY –June 27, 2008 – New York City remains the epicenter of the HIV/AIDS epidemic in the United States, with more than 100,000 residents currently living with HIV. However, less than half of those at highest risk of infection are getting tested for the virus, according to a new Health Department report. In 2006, nearly 1,000 New Yorkers didn't find out they were HIV positive until they were already sick with AIDS – shortening their lives and spreading the epidemic. African American New Yorkers bear the greatest burden of HIV, followed by Hispanics, whites and Asians.
The proportion of New Yorkers who report being tested in the past year has increased somewhat from 23% in 2005 to 29% in 2007, but the report finds that some of those most likely to be exposed to HIV are not getting tested. Only one third (35%) of men who had sex with men (MSM) reported having a recent HIV test.
Among MSM who reported not using a condom during their last sexual encounter, testing rates were even lower – only a quarter (25%) had been tested for HIV in the past year. The testing rate was slightly higher (34%) among all adults who reported having multiple partners and unprotected sex. And, less than half (43%) of injecting drug users said they had an HIV test during the past year.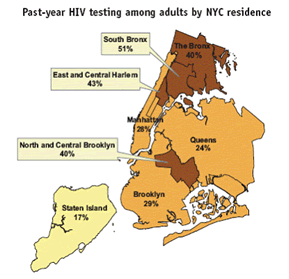 "Knowing your HIV status is one of the most important things you can do for your health," said Dr. Thomas R. Frieden, Health Commissioner for New York City. "If you're HIV-negative, you can take steps to stay that way. If you're positive, you can get appropriate care and lifesaving treatment, and you can make sure you don't infect others."
The findings vary by neighborhood as well as race and ethnicity. Residents in the South Bronx, East and Central Harlem, and North and Central Brooklyn have the highest HIV death rates in the City. Even in these hard hit areas, more than half of the adults (56%) were not tested in the past year.
"Many New Yorkers assume their doctors have tested them for HIV," said Dr. Frieden. "Unfortunately, New York State is one of 11 states that still require separate written consent for HIV tests – a step that isn't required for other medical tests. Despite this obstacle, the Health Department urges health care professionals to offer HIV tests to all their adult patients."
Doctors and health care professionals should recommend HIV testing to all patients ages 18 to 64, as well as to teenagers and older adults who may be at risk.
All New Yorkers can protect themselves and others from HIV
Have one partner in a mutually exclusive relationship. This is the best protection against HIV and other sexually transmitted infections.
Use condoms every time you have sex. Free NYC Condoms are available at many sites throughout the city. If you and your partner are monogamous, get tested before having unprotected sex.
Avoid using alcohol and drugs when you have sex. Being drunk or high makes it hard to remember to use condoms.
If you have ever been sexually active or injected drugs (even once), get tested for HIV. If you are at high risk of exposure to HIV, you should be tested at least once a year.
If you're HIV-positive, use condoms to protect yourself and others – and seek out regular health care.
The Health Department's STD Clinics offer free and confidential (or anonymous) rapid HIV testing to anyone age 12 or older. The clinics are open six days a week. Testing is also available at all hospitals operated by New York City's Health and Hospitals Corporation. No proof of citizenship or health insurance is required. For more information, New Yorkers can call 311. To find the nearest testing site, visit any of these websites:
NYC Health Department
http://www.nyc.gov/html/doh/html/std/std2.shtml
NYC Health and Hospitals Corporation
http://www.nyc.gov/html/hhc/html/facilities/directory.shtml
National HIV and STD Testing Resources (CDC)
www.hivtest.org
###