NEW YORK CITY – June 26, 2008 – Tomorrow, on National HIV Testing Day, the Health Department will launch the largest HIV testing initiative in New York City history. The goal: to have all Bronx residents between the ages of 18 and 64 learn their HIV status within the next three years. With the help of local groups, faith-based organizations, and doctors' offices, the new campaign – "The Bronx Knows"– will strive to reach the 250,000 Bronx adults who have never been tested. Hundreds of community partners will attend the event at the New York Botanical Garden tomorrow in the Bronx to pledge their support for the effort.
HIV in the Bronx - 2006
Number of people living with HIV/AIDS: 21,502
Number of people newly diagnosed with HIV:

829

Number of people who first learned they were HIV+ when
they already had AIDS: 214
Number of people who died of HIV/AIDS: 357
Percent of Bronx adults who have ever been tested: 69%
The Bronx has led the way on HIV testing in New York City, with the highest testing rate of all boroughs. Seven out of 10 Bronx adults (69%) have been tested at some point in their lives, compared with 64% in Manhattan and 56% in Brooklyn. HIV testing saves lives and prevents the spread of the infection by enabling HIV-positive people to get the care they need and take steps to protect their partners.

Like other boroughs, the Bronx has been hit hard by the HIV epidemic. Bronx residents account for nearly a fourth of New York City's HIV infections and a third of AIDS deaths each year. Among Bronx residents who tested positive in 2006, more than a quarter were already sick with AIDS by the time they learned they had HIV. These individuals had likely been infected for nearly a decade but had never been diagnosed – meaning they missed opportunities for timely treatment and may have unwittingly passed the virus to others over time.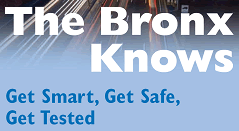 "The Bronx Knows" is part of a wider effort to make HIV testing a routine part of primary health care. If health care providers offered HIV tests as routinely as cholesterol and blood pressure tests, HIV-positive people would learn their status earlier. That would dramatically improve their chances of getting the care they need, and help them protect their partners. The Health Department hopes to bring down barriers to testing by enlisting local groups to promote testing at the grassroots level in clinics, churches and local organizations.
"The Bronx has the opportunity to lead the city in the fight against HIV/AIDS by being the first borough to have all residents tested," said Dr. Thomas R. Frieden, New York City Health Commissioner. "The Bronx can build on its success by further increasing its testing rate. This effort will set a model not only for the city but for the whole country. We thank the many groups and health care providers who are pledging to help achieve this goal."
"I am pleased to be working with the Health Department on this critical effort," said Adolfo Carrion Jr., Bronx Borough President. "Although HIV treatments have successfully prolonged the lives of infected people, new infections are still occurring at epidemic rates, especially among women and people of color. Everyone should be practicing safer sex to ensure their protection from all sexually transmitted diseases. HIV testing helps citizens act responsibly toward their partners, and take steps to preserve their own lives as well."
"Knowing your status is one of the best things you can do to stop the spread of HIV," said Dr. Monica Sweeney, Assistant Commissioner for HIV Prevention and Control. "Getting tested tells you to stay safe if you are negative – and develop a plan to feel better, live longer, and protect others if you are positive. I encourage all Bronx residents to join the movement to make the Bronx the first to know."
Get Safe, Get Smart, Get Tested
Getting tested for HIV has never been easier. The Health Department has teamed up with dozens of community-based organizations, hospitals and community health clinics throughout the Bronx to carry out this initiative. Starting today, any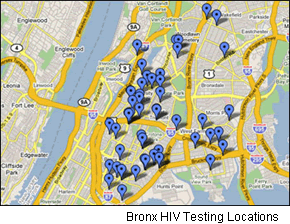 Bronx resident can go to any one of 40 locations throughout the borough for fast, reliable testing. Locations are searchable at www.nyc.gov/bronxhivtesting.
By bringing together health care providers and community groups, the campaign also seeks to connect Bronx residents that test positive to health care. Getting the right care, medicine and support services is essential to staying healthy if you have HIV.
"Bronx AIDS Services is proud to support this Bronx-wide HIV testing campaign," said Jose Davila, Executive Director. "As the largest and oldest provider of non-hospital HIV-related services in the borough, we understand the importance of everyone knowing their HIV status. The Bronx has a unique history of strong collaboration among all provider sectors, and we are sure that with that strength, we will be the first borough in the city to know its status and do something about it."
The Bronx Knows, and You Can Too
Any New Yorker can get a free HIV test at any of the City's STD clinics. For a complete list of locations call 311. And if you're sexually active, don't assume that HIV is someone else's problem, everyone needs to be tested. In addition to getting tested, using a condom every time you have sex is the best way to stay safe. Any New Yorker can get free NYC Condoms by calling 311 or by visiting one of the hundreds of restaurants, bars and coffee shops that have them. For a list of locations, visit http://www.nyc.gov/condoms.

Bronx-wide HIV Testing Initiative Partners:
Adolescent AIDS Program
Africa Redemption Alliance International
African Services Committee
AIDS Education and Training Center
All Med / Medical & Rehabilitation of NY
Bronx AIDS Services
Bronx Clergy Task Force
Bronx Community Health Network
Bronx Community Pride Center
Bronx HIV CARE Network
Bronx Lebanon Hospital Center
Bronx Lebanon Martin Luther King, Jr. Health Center
Care for the Homeless
Children's Aid Society Bronx Family Center
Citizen's Advice Bureau
Community Healthcare Network
Dominican Sisters Family Health Services, Inc.
East Harlem Council for Human Services Boriken Neighborhood Health Center
Health People
Hispanic AIDS Forum
Hunts Point Mult-Service Center, Inc.
Institute for Family Health Urban Horizons Family Practice
Jacobi Medical Center/North Central Bronx Hospital
James J. Peters VA Medical Center
Latino Commission on AIDS
Montefiore Medical Center
Morris Heights Health Center
National HIV Testing Mobilization Campaign US DHHS
New York Westchester Square Medical Center
NYC Health and Hospitals Corporation
Our Lady of Mercy Medical Center
Planned Parenthood
Planned Parenthood Project Street Beat
Promesa Systems, Inc.
Public Health Solutions
Soundview HealthCare Network
St. Ann Harm Reduction
St. Barnabas Hospital
STD Center For Excellence
The Floating Hospital
Union Community Health Center
United Bronx Parents, Inc. La Casa de Salud
Urban Health Plan, Inc
Vocational Instruction Project (VIP) Community Services, Inc.
###