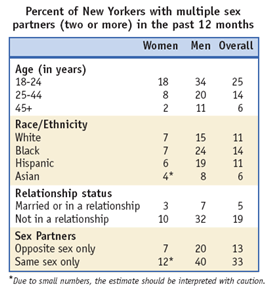 NEW YORK CITY –June 24, 2008 – New Yorkers with multiple sex partners, and low rates of condom use, are putting themselves at risk of sexually transmitted infections, including HIV, or unplanned pregnancy. According to a new Health Department report – Are New Yorkers Having Safe Sex? – rates of unsafe sexual behavior, particularly among men who have sex with men, continue at a high rate. In 2006 alone, more than half of all New York City pregnancies were unplanned and more than 60,000 new sexually transmitted infections (STIs) were reported – including 3,745 new HIV diagnoses.
Overall, 11% of New Yorkers, some 610,000 adults, report having more than one partner in the past year, according to the new report. Men are three times more likely than women to report multiple partners (17% vs. 6%), and young adults are four times more likely than older adults to report multiple partners. New Yorkers with same-sex partners are three times as likely as those with opposite-sex partners to report more than one partner in the past year. And 5% of New Yorkers who are married or in steady relationships say they've had two or more partners in the past year.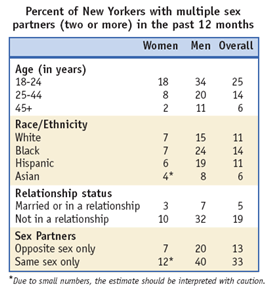 "Tens of thousands of New Yorkers put themselves at risk by having unsafe sex," said Dr. Thomas R. Frieden, Health Commissioner for New York City. "Reducing your number of sexual partners, and using condoms correctly and consistently, makes it less likely you'll get a sexually transmitted infection such as HIV." Dr Frieden continued: "Of most concern, among men who have sex with men who had 5 or more partners in the past year, 36% did not use condoms consistently. This is a core group which is at high risk for getting – and spreading – HIV."
Condom Use Not Consistent
Only 60% of New Yorkers with multiple partners reported using a condom the last time they had sex. The proportion is even lower – just 43% – among New Yorkers who are in committed relationships but have had other partners during the past year. "Unless you're in a long-term, mutually monogamous relationship with an uninfected partner," said Dr. Frieden, "use a condom every time."
Only half of men with both male and female partners (55%) reported consistent condom use. Among men who have sex exclusively with other men, 75% said they always use condoms.
Free NYC condoms are available at locations throughout the city. Call 311 or visit www.nyc.gov/condoms for more information. The Health Department has distributed more than 48 million NYC Condoms since 2007 and continues to give away more than 3 million every month at clinics, health clubs, bars, barbershops and other venues.
Double Up to Prevent Pregnancy
The best way to prevent a pregnancy is to use condoms correctly and consistently and use another effective form of birth control, such as the pill, patch, or ring. More than one third of New York City women ages 18-44 (39%) did not use any form of contraception the last time they had sex, yet most of these women (83%) say they were not planning a pregnancy. Another third (34%) said they used only condoms. Only 7% of women employed two forms of contraception, the report showed.
Plan B (also known as emergency contraception) is a safe and effective way for women to prevent pregnancy after unprotected sex. The Health Department offers free Plan B at its STD clinics in the five boroughs to all women.
Getting tested – Express visits are available
Getting tested will help identify STIs early when they are most treatable. Many STIs don't cause symptoms, especially in women, but without treatment, STIs can have serious consequences, including infertility, poor birth outcomes and some cancers.
Free and confidential screening is available on a walk-in basis at Health Department STD clinics. To make testing easier, New York City now offers an express visit option at each of the 10 clinics. Express visits are a quick, easy testing option for people who have no symptoms or aren't sure if they were exposed to an STI. Complete medical exams are still available for people with symptoms, or for exposure to a partner who is known to have an STI. Call 311 for clinic locations and hours of operation. Services are available to people 12 and older without parental notification and without regard for immigration or insurance status.
Tell your partners if you put them at risk
If you have exposed any partners to an STI, it is important to tell them so they can be tested and treated if necessary. Ideally, patients would notify their partners themselves, but for some people, this is too difficult. In these cases, New Yorkers can call 311 and ask for "Partner Notification Assistance" and the Health Department will notify partners without ever revealing who you are. New Yorkers can also notify partners electronically through a web service called inSPOT, at www.inspot.org. InSPOT allows New Yorkers to send e-cards to partners, either anonymously or by name. This service operates in several U.S. cities and was introduced in New York City last summer.
About the Data
The Health Department's Vital Signs report is based on the Community Health Survey, a telephone survey of approximately 10,000 New York City adults (18 years or older). Are New Yorkers Having Safe Sex? is available online at http://www.nyc.gov/html/doh/downloads/pdf/survey/survey-2008safe-sex.pdf.
###