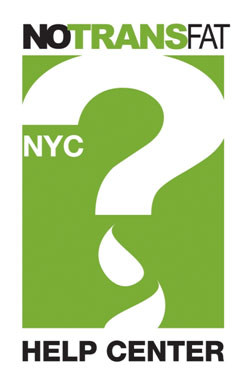 NEW YORK CITY – June 16, 2008 – In a few weeks, New York City restaurants will finish the job of eliminating artificial trans fat from the food they serve. The final phase of the City's trans fat regulation takes effect July 1, requiring restaurants to clear artificial trans fat from all their menu items. When first implemented last year, the new standard applied only to fry oils and spreads. It will now cover previously excluded items such as baked goods, frozen foods, cannoli, and doughnuts as well. Foods served in the manufacturer's original, sealed packaging, such as candy and crackers, are still exempt.

Acceptance of the first phase of the trans fat regulation has been very high, with more than 98% of inspected restaurants in compliance as of last month. Some food chains and cooking oil manufacturers have not only eliminated trans fat but also reduced saturated fat by 20% to 35% in certain fried foods, further boosting the health benefit for consumers.

In early June, the Trans Fat Help Center mailed brochures on baking without artificial trans fat to all 25,000 New York City food service establishments and to New York State food suppliers serving the city. Most large bakery suppliers will include the brochures with the orders they ship during July.

"I made the transition seven months ago," said Saul Haye, owner of Christie's Jamaican Patties in Brooklyn. "Cooking my patties and baked goods with replacement shortenings hasn't hurt the products or my business, and it's healthier for my customers."

Since New York City passed the artificial trans fat regulation for restaurant food, new "0 grams" trans fat products have come on to the market, increasing the options for restaurant owners and bakers. "Chocolate chips, sprinkles and baking margarines are all now available without artificial trans fat," said Laura Stanley, Coordinator of the Trans Fat Help Center. "In many cases, bakers don't need to switch brands; they'll simply order new formulations of familiar products. We found that some of these products actually worked better than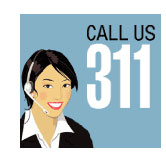 the old versions made with artificial trans fat."

The Health Department, with support from the American Heart Association, launched the Trans Fat Help Center at New York City College of Technology last year to help restaurants and other food service establishments switch from artificial trans fat to more healthful fats and oil. The Help Center continues to offer the following resources at no cost to restaurants:

Help Line: Restaurants can call 311 to reach the Trans Fat Help Line for information on the regulation and for advice from culinary experts on how to reformulate their products. Assistance is available in Spanish, Chinese, and in more than 150 other languages through interpreters.

Website: The notransfatnyc.org  website features easy-to-use resources that are available to restaurants 24 hours a day, seven days a week. Food service professionals can access information on the regulation, lists of trans fat alternatives, guidance on baking and frying without trans fat, and information about free classes for restaurant operators.

Classes: Food service operators can sign up for free classes on cooking and baking without artificial trans fat. Classes will be offered monthly through December 2008 in English and Spanish. Upcoming classes:

JUNE
June 18
10 a.m.-11:30 a.m.
Class in Spanish
City Tech, 300 Jay Street, Brooklyn
JULY
July 9
10 a.m.-11 a.m.
Class in English
City Tech, 300 Jay Street, Brooklyn
July 24
2 p.m. - 3 p.m.
Class in English
City Tech, 300 Jay Street, Brooklyn
A complete guide to complying with NYC's trans-fat regulation is available here (PDF). Restaurant operators and other NYC-permitted food service establishments can also call 311 for more information.
###