Anyone interested in operating one of New York City's new Green Carts should apply now! All applications must be postmarked no later than June 18, 2008. This year's 500 permits are now up for grabs. Another 500 permits will be available in 2009.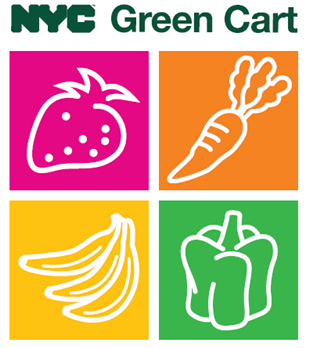 Green Carts are mobile food carts that sell only raw fruits and vegetables – such as whole carrots, bananas, apples and berries – in parts of the City where consumption of fruits and vegetables is lowest. Each Green Cart permit allows a cart to operate in selected areas of one borough only. For the list of designated areas, visit: www.nyc.gov/html/doh/
downloads/pdf/cdp/green_
carts_areas.pdf
To operate a Green Cart, a valid mobile food vending license and a Green Cart permit are required. The license covers the operator and the permit covers the cart. The license is the same one needed to operate any mobile food cart, and the vendor must apply for one before applying for a permit. For more information on how to apply for a license, visit: http://www.nyc.gov/html/doh/downloads/pdf/cdp/green_carts_flow.pdf
Priority on the Green Cart waiting lists will be given to applicants already on other Health Department mobile food permit waiting lists, disabled United States veterans, disabled persons, and United States veterans who are not disabled. Since this is a new program, anyone interested in operating a Green Cart is encouraged to apply. For more information, visit www.nyc.gov/greencarts or call 311.
###