NEW YORK CITY – May 5, 2008 – The Health Department today launched a new awareness campaign to inform expectant mothers about its free and voluntary Newborn Home Visiting Program. Launched in 2004, the program aims to help mothers and babies stay healthy by offering a home visit from a trained Health Department worker. All mothers with new babies who live in the South Bronx, East and Central Harlem, and the Brooklyn neighborhoods of Bedford-Stuyvesant, Brownsville, and Bushwick are eligible. Visits usually occur a month after a baby is born.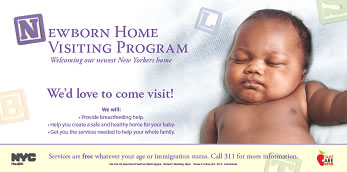 "The birth of a child provides an important opportunity for education and support for mothers," said Dr. Adam Karpati, Assistant Commissioner for the Health Department's Brooklyn District Public Health Office. "These visits give moms the information and referrals they need to keep themselves, their children, and their entire family healthy. We hope all new mothers in these neighborhoods will take advantage of this free service."
"Knowing how to enhance the well-being and quality of life of your baby is essential for new mothers," said Jennifer March-Joly, Executive Director of Citizens' Committee for Children. "Services like these, delivered in the weeks immediately following the birth of a child, help make New York City a better place for children."
During the home visit, the Health Department worker provides information on health issues for mother and baby, including breastfeeding, safe sleep practices, bonding and attachment, smoking cessation, post-partum depression, health insurance, and the importance of finding a regular health care provider. The health workers also screen new mothers for potential health or social needs and assess the home for potential hazards such as peeling lead-based paint, missing or improperly installed window guards, missing smoke and/or carbon monoxide detectors, and pests. After conducting these assessments, the worker helps the mother gain access to needed services from government agencies or community-based organizations.
Just in time for Mother's Day, the Health Department is displaying new posters about the program on subway platforms, bus shelters and bodegas throughout the city. Public service announcements are also airing on local radio stations, including KISS FM, HOT 97, and the Spanish language station La Kalle, and through video testimonials on their websites.
Accepting a visit from the Newborn Home Visiting Program is entirely voluntary. New mothers are contacted by a Health Department staff member at the hospital soon after delivery or via telephone and mail. In 2007, 58 % of eligible mothers accepted and received a home visit.
###