NEW YORK CITY – April 24, 2008 – Quitting smoking can be hard, but people's rationales for continuing to smoke are often rooted in pure myth. The Health Department today debunked five favorite excuses to motivate even more New Yorkers to call 311 for patches and gum at no cost. More than 7,000 people have enrolled already, and the offer is good only until May 1st.
MYTH: I couldn't quit the first time I tried, so I won't be able to quit this time.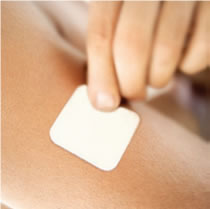 FACT: Most smokers need a few tries to quit successfully. Most New Yorkers who ever smoked have already quit. Relapse is part of the process, not the end of the line. Smokers should not feel discouraged if they relapse once, twice, or even three times. Keep at it – the benefits will be worth it. Using nicotine patches or gum doubles your chance of success.
"I tried to quit many times before I succeeded," said Marie, a former smoker featured in new anti-tobacco ads. "I just wasn't ready at first. I was still looking for an excuse to smoke. But you have to keep trying. When I set my mind to it and I used the patch, I finally put cigarettes down for good."
MYTH: It will take forever to see the benefits, so why bother?
FACT: The health benefits of quitting are immediate. Within a few hours of your last cigarette, the level of poisonous carbon monoxide in the blood begins to decline. Within 24 hours, your chance of having a heart attack drops. Quitting smoking improves the quality of your life rapidly. In the days and weeks after quitting, your ability to taste, smell, and breathe will improve.
"Quitting smoking will make you feel better now," said Sarah Perl, Assistant Commissioner for the Health Department's Bureau of Tobacco Control. "Why wait to quit, when you can start reversing the deadly effects of smoking today?"
MYTH: Quitting will only mean living a few years longer, and I don't want to live to be 100 anyway.
FACT: Smokers who are killed by tobacco die about 14 years younger than non-smokers. And early death isn't the only consequence smokers suffer. Cigarettes disable and disfigure far more people than they kill. Long before they die, many smokers develop heart disease, strokes, and emphysema, losing the ability to walk, talk, and breathe freely. Some endure amputations as their circulation shuts down. Smoking also stains teeth, causes saggy, graying skin and saps your lung capacity. It even affects reproductive health. Male smokers are at increased risk of erectile dysfunction, and some women smokers struggle with infertility.
"As a doctor, I treated patients who could not walk more than a few steps without gasping for air because of their smoking," said Dr. Thomas R. Frieden, Health Commissioner for New York City. "Problems like emphysema, stroke, and heart attack can be devastating. Smoking can rob you of your ability to do everyday things long before it takes your life."
MYTH: I've smoked too long; it's too late for me to be healthy.
FACT: It is never too late to quit. No matter how old you are or how long you've smoked, quitting can improve your health. Even among long-time smokers, the risk of a heart attack declines after one smoke-free year. After five years, the risk of mouth, throat, and esophageal cancer also drops by half. That's good news whether you're 18 or 80.
Dr. Frieden took calls from smokers at the 311 Call Center on Tuesday. "I spoke to a 65 year-old man from Brooklyn who smokes two packs a day and was trying to quit smoking with medicines for the first time," he said. "I congratulated him for calling and taking the first step to quit. This act could change his life and benefit his children and grandchildren as well."
MYTH: I'll gain lots of weight if I quit, and have another health problem to deal with.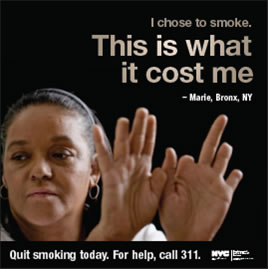 FACT: While smokers may gain some weight, the health benefits of quitting – reduced risk of heart disease, cancer and stroke – far exceed the risks of this weight gain. Smokers can ward off the weight gain through healthy eating and regular exercise. Some studies suggest that nicotine patches and gum can prevent or delay weight gain.
"Smoking is the most damaging thing you can do your body – no doubt about it," said Dr. Mary Bassett, Deputy Commissioner for Health Promotion and Disease Prevention. "Even if you gain a few pounds, you'll be much better off for having quit. And weight gain is not inevitable – it's preventable."
For more tips on how to quit, visit http://www.nyc.gov/html/doh/html/smoke/smoke2-cess.shtml.
###