NEW YORK CITY – April 16, 2008 – The Health Department today launched a Nicotine Patch and Gum Program by rolling out a new series of anti-tobacco ads. The ads feature Marie, a former smoker from the Bronx whose smoking-related illness led to nearly 20 amputations. "I don't smoke anymore," Marie says in the ads, "but the damage is done." Nicotine replacement helped Marie kick the habit in 2006, preventing further damage to her health. The Health Department is now urging all NYC smokers to follow her lead by calling 311 today. Nicotine replacement doubles the chances of quitting for good, and the City is offering them at no cost for 16 days – from now until May 1st. Because of an increase in the state tax, the price of a pack of most cigarettes will jump to about $8.50 in June, making this giveaway the perfect opportunity to quit.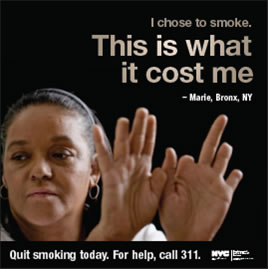 Dr. Thomas R Frieden, New York City Health Commissioner made the announcement at 311 headquarters in Lower Manhattan today alongside Paul J. Cosgrave, Commissioner of the city's Department of Information Technology and Telecommunications (DoITT).
Marie tells her story in the new ad campaign, which debuts today on television, radio and the Internet, in taxi cabs, and in the New York City subway cars. Subway riders will also encounter the ads in Brooklyn's Atlantic Avenue station, where Marie's message will cover every available ad space. The full campaign can be seen online at www.nyc.gov/health.
Like most smokers, Marie started smoking as a teenager. She developed Buerger's disease, a condition that narrows arteries, reducing blood flow to the arms and legs. She has lost portions of most fingers, as well as a leg and a part of one foot. In the ads, Marie describes the pain she has endured and explains how her disability keeps her from doing even simple tasks. She also recounts how it affected her relationships with loved ones. "The light burned out in my kitchen and I can't even change it," she says. "My daughters might even have been embarrassed [by] what I was starting to look like. At one point, I wasn't even living. I was just alive."
"Not only do cigarettes kill 8,000 New Yorkers a year, they disable and disfigure many times that number," said Dr. Thomas R. Frieden, New York City Health Commissioner. "Thousands of New Yorkers suffer strokes, heart attacks, and amputations that cause irreversible damage every year. Their lives are never the same. We urge all New Yorkers to listen to Marie's story and quit smoking. Anyone who wants help should call 311 for nicotine patches or gum."
"While 311 takes more than 40,000 calls a day and 15 million each year, the most rewarding calls are when we help our customers significantly better—or in some cases, save—their own lives," said DoITT Commissioner Paul Cosgrave. "Marie's story is a perfect example, and we're ready for thousands more callers this year. New Yorkers who are ready to quit smoking should call 311 to take the first step."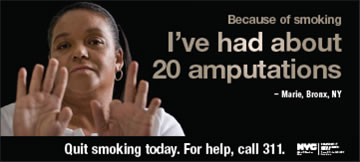 Marie called 311 for nicotine patches in 2006 and she quit smoking. Since then, Marie's health has improved and she is slowly rebuilding her life. "If telling my story to the public helps one person quit smoking, it's worth it," she said.
While smoking rates have fallen rapidly since 2002 and most people who have ever smoked have already quit, more than a million New Yorkers still smoke. Smoking is one of the leading causes of preventable death in New York City, killing nearly 8,000 people every year – more than 20 every day.
"Smokers shouldn't be discouraged if they try and fail a few times," said Sarah B. Perl, Assistant Commissioner of the Bureau of Tobacco Control. "Quitting can be tough, but nicotine patches and gum really help. In fact, patches and gum can more than double your chances of quitting for good." Some tips to make quitting smoking easier:
Prepare yourself. Make a list of your reasons for quitting and plan for situations that may tempt you to smoke.
Pick a quit date. Get rid of ashtrays and lighters, and all cigarettes.
Make your home and car smoke-free. It is healthier for others and will help you resist smoking.
Get support and encouragement. Tell your family, friends, and co-workers that you are quitting and ask for their support.
Get a quit buddy. Ask a smoker to quit with you, or find someone who has already quit who you can talk to for support.
More information on quitting smoking is available at http://www.nyc.gov/html/doh/html/smoke/smoke2-cess.shtml.
###