NEW YORK CITY - Wednesday, March 5, 2008 – As influenza cases spike in New York City, the Health Department is calling on state lawmakers to pass a bill allowing pharmacists to give flu and pneumonia shots, giving patients more options for care. The bill promises to expand access to these life-saving vaccinations, potentially increasing the number of New York City seniors who get the shots by 50,000 or more.
Like senior centers and workplaces, pharmacies would provide an additional access point for vaccinations, enabling more people to take advantage of these shots. Pharmacists already administer vaccines in most states. Some 47 states have adopted that policy, which safely and effectively raises vaccination rates, and prevents needless illness and death.
While it is not possible to track individual cases, surveillance systems show that influenza is now widespread in New York City, with daily influenza-related emergency department visits topping 1,000 – an urgent reminder of the need to move this bill forward to protect people in years to come. In addition, some 20 percent of the current vaccine supply is going unused. If that surplus made was available in pharmacies, it could be used to protect people from illness.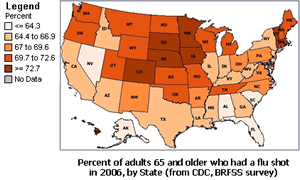 "Influenza and pneumonia kill more than 2,000 New Yorkers every year," said Dr. Thomas R. Frieden, Health Commissioner for New York City. "Many of these deaths are preventable. By expanding access to these vaccines, we will save lives. If our legislators take action on this measure now, we can look forward to less illness and death next year."
Both New York State and New York City have low vaccination rates compared with other jurisdictions. For adults over age 65, New York State currently ranks 39th in the country for flu vaccination and 41st for pneumonia vaccination. However, a 2004 study published in the journal Vaccines showed that adult rates for flu vaccination were as much as 27 percent higher in states that allow pharmacists to immunize compared to those that do not. The same study found that flu vaccination rates among those over age 65 grew at triple the rate in states that have passed this legislation compared to those that have not.
"The more places flu shots are available, the more likely people are to get one," said Dr. Jane R. Zucker, Assistant Commissioner for the Health Department's Bureau of Immunization. "Pharmacies are a natural place to reach those at high risk of hospitalization and death from the disease. People with diabetes and asthma regularly see their pharmacists to refill their prescriptions. If vaccinations were available at the same counter, many more would get them."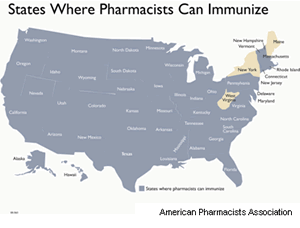 The bill would allow pharmacists to immunize people 18 years and older after certifying completion of a federally-approved course. The course is now a routine part of pharmacists' education. As licensed health care professionals, pharmacists also receive specialized training in drug administration, drug interactions, pharmacology and patient management, making them highly-qualified to perform this function. At present, nurses, nurse practitioners, physician assistants, and physicians administer vaccines in New York State.
The legislation (A2140 Paulin/S1312 Fuschillo and S3334 Padavan) has sponsors in both the State Assembly and State Senate, but has been stalled for years. The next step is for members of the higher education committees in both houses to allow the legislation to advance to the floor of their respective houses for a vote. National groups such as the American College of Physicians and the U.S. Health and Human Services National Vaccine Advisory Committee have endorsed the policy, and the New York State legislation has gained vocal support from many local organizations, including:
New York Academy of Medicine
American Lung Association of the City of New York and the American Lung Association of New York State
New York State Nurses Association
Nurse Practitioner Association of New York State
Joint Public Affairs Committee for Older Adults (JPAC)
New York Statewide Senior Action Council – New York City Chapter
###