Not every New Yorker knows Ronaldo Martinez by name, but his story has inspired hundreds, if not thousands, to quit smoking. This week the Health Department began re-airing the television ads that made him a local celebrity. Originally produced for the Massachusetts Department of Public Health in 2001, Ronaldo's anti-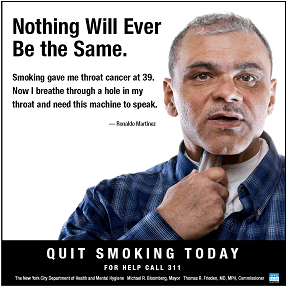 tobacco testimonials contributed to the four-fold increases in calls to 311 from smokers seeking help when the NYC Health Department first aired them in 2006. The spots will appear on cable and broadcast channels through Oct. 19.
Martinez, who loved swimming and dreamed of being a major league umpire, lost his voice box to smoking-induced cancer at 39 and now breathes through a permanent hole in his throat. In each of the three 30-second ads, he uses a buzzing mechanical device to describe how smoking has diminished his life. He would now drown if he went swimming. Even bathing and shaving are difficult. "Nothing," he says, "will ever be the same."
If you smoke, quit now – before it's too late. For help, call 311.
###