NEW YORK CITY – December 19, 2007 – The Health Department today encouraged adult enrollees in the World Trade Center Health Registry who have not yet completed their follow-up surveys to do so by the December 31 deadline. While the overall response rate to the follow-up survey is approaching 70% with more than 45,000 surveys completed, response rates among residents, particularly Spanish- and Chinese-speaking residents, have been below 50%.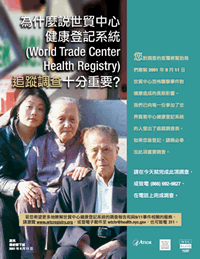 The Health Department's follow-up survey is the best way to learn more about people's status six years after they were exposed to the World Trade Center disaster. By comparing the second survey to the first one, which ended in 2004, researchers will answer important questions about the persistence of physical and mental health symptoms and determine whether any new health problems have emerged among the registrants.
"With a higher response rate, the Registry will be able to better assess the health impact of 9/11 and its aftermath, and help the federal government and New York City assist people directly affected by 9/11," said Lorna Thorpe, Deputy Commissioner for Epidemiology .
"The whole community will benefit if residents answer the second survey," said Kimberly Flynn of 9/11 Environmental Action. "That's why so many community-based organizations joined in this intensive outreach effort." These organizations include South Bridge Towers Parents and Youth Association, South Bridge Towers Chinese Residents Association, South Bridge Towers Senior Center, Alfred E. Smith Houses Tenants Association, Independence Plaza North Tenants Association, and Knickerbocker Village Tenants Association.
As part of a concerted outreach effort during the final weeks of the survey, the Health Department has placed follow-up survey advertisements in community and ethnic newspapers, including the Downtown Express, Sing Tao, Ming Pao, Epoch Times, China News World Journal, El Diario and Hoy. In addition, with the help of community groups and neighborhood tenant associations in Lower Manhattan, it has papered residential buildings with fliers emphasizing the importance of the follow-up survey and upcoming deadline.
Enrollees who wish to complete the survey should call 1-866-692-9827 or e-mail wtchr@health.nyc.gov. Parents and guardians of children have until March 31, 2008 to complete a separate survey.
About the Survey
Beginning in November 2006, all enrollees received paper copies of the follow-up survey several times. English-speaking enrollees who provided an e-mail address also got e-mail reminders, urging them to complete the survey online. In September 2007, the Health Department made it possible to complete the survey by telephone. This option was chosen by more than 5,000 enrollees, including Spanish and Chinese speakers who received a special mailing informing them of this option.
The follow-up survey takes about 30 minutes to complete and is available in English, Spanish and Chinese. Other languages are available through an interpretation hotline.
The new survey includes many of the same health questions as the initial interview. It also has new follow-up questions for specific groups in the Registry.
Enrollees' responses are protected by a Federal Certificate of Confidentiality. All information given is kept strictly private and confidential.
Enrollees are urged to keep their contact information updated so they can receive information about the Registry.
The Registry monitors the symptoms and health conditions of many different groups affected by the 9/11 attacks, including residents, rescue and recovery workers, office workers, people on the streets nearby, and students and teachers in the area. The results help health experts recognize and treat health problems potentially associated with exposure to the 9/11 attacks. For example, in August 2006, the Health Department released clinical guidelines for NYC physicians that outlined the best treatment for respiratory and mental health conditions that are common in people exposed to the attacks (http://www.nyc.gov/html/doh/downloads/pdf/chi/chi25-7.pdf).
Additional information about World Trade Center Health Registry and New York City's commitment to 9/11 health can be found at www.nyc.gov/9-11healthinfo.
###