New York City - November 29, 2007 – Fighting decreased by 20% in New York City schools between 2003 and 2005, according to a new report from the Health Department, but dating violence is on the rise. The new report, Teen Safety in New York City, charts trends in youth violence and examines the impact of violence on young people's lives and well-being. The report shows an association between violence and other health risks — both for victims and for aggressors.
"Violent experiences can affect the well-being of teens," said Dr. Thomas R. Frieden, New York City Health Commissioner. "As parents, teachers, and health care providers, we have a responsibility to work together to keep our children safe and secure. By taking action early, we protect their health and prevent violence from interfering with teens' development at home or in the classroom."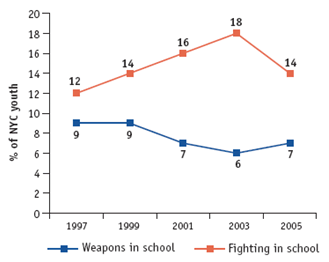 Drawing from a survey of adolescents in public schools, the report shows that the percentage of teens involved in school fights dropped from 18% in 2003 to 14% in 2005. The decline reverses an upward trend that began in 1997. The percent of youth who reported carrying a weapon to school in the past month decreased from 9% in 1997 to meet the national average of 7% in 2005. The slight increase that occurred during the study period (from 6% to 7%) was not statistically significant. The proportion of teens who reported missing school because they felt unsafe has remained unchanged at approximately 9% since 1997, compared to the national prevalence of 6% in 2005.
"Students learn best when they are in a safe environment," said New York City Schools Chancellor Joel I. Klein. "To this end, we work collaboratively with the New York City Police Department to ensure student safety in each of our schools. The safety of New York City children is our top priority."
The new report identifies a number of shared health risks among youth who carry weapons to school and those who report being threatened or injured by them. Both groups report high rates of illegal drug use — 17% and 19% respectively, compared to 3% among youth with neither violence experience — and both are more likely to attempt suicide. Some 25% of those who carried weapons, and 21% of those threatened or injured, said they had attempted suicide during the past year. The prevalence of suicide attempts among youth without violent experiences is approximately 9%.
Although overall school violence is declining, physical dating violence and forced sex have increased among NYC youth. The proportion of students reporting physical dating violence has increased from 6.5% in 1999 to 10% in 2005, which matches the national average for that year. NYC has also seen an increase in forced sex reports. In 2005, 7.5% of New York City youth reported that they had been raped at some point. That figure matches the national average, but it represents an increase for New York City, where the rate was 5.6% in 2001.
Among a number of City and community-based initiatives, the Mayor's Office to Combat Domestic Violence has teamed with the Department of Youth and Community Development to educate young people on dating violence. Together, these agencies have developed the New York City Healthy Relationship Training Academy, which hosts workshops that teach young people and youth service providers about the dynamics of abusive relationships and the characteristic of healthy, loving relationships.
"We are working to empower young people with the tools and knowledge to recognize what healthy, loving relationships look like," said Yolanda B. Jimenez, Commissioner of the Mayor's Office to Combat Domestic Violence. "Through our peer-education anti-violence programming and outreach, we are taking the first step in preventing domestic violence and keeping teens safe."
During the workshops, peer educators highlight real-life experiences and encourage participants to evaluate their own lives in an effort to identify healthy and unhealthy relationships. Since the program's inception, it has held 77 workshops serving over 1,300 youth participants.
There are many steps that parents, educators and health professionals can take to keep teens safe:
Schools and communities can:
Promote anti-violence programs, curricula and campaigns.
Identify school staff who can reach out to youth who have been identified for disciplinary action due to violence. Those who report being victimized, abusing substances, or contemplating suicide should be referred to mental health services.
Actively encourage safe home and school environments with zero tolerance for bullying and violence.
Pediatricians, adolescent-medicine physicians and mental-heath providers can:
Ask questions about violence and victimization experiences when assessing youth for other mental health concerns, and use the information to guide care and referrals.
Parents can:
Know where your children are, what they are doing (at home, away from home, and on the Internet), and who their friends are.
Be prepared to respond quickly if you notice troubling changes in your children's behavior, including violence, depression or possible substance use. If you are concerned, discuss the possibility of violent experiences with your child and seek appropriate mental health services.
For information and help with mental health problems, call 1-800-LifeNet (1-800-543-3638) or call 311 and ask for LifeNet.
Talk to school staff and health care providers about coordinated violence prevention strategies, such as school conflict-resolution programs.
Teen Safety in New York City is based on data from the New York City Youth Risk Behavior Survey (YRBS), a self-administered, anonymous questionnaire. The survey has been conducted every other year since 1997 by the Health Department and the New York City Department of Education. The sample, taken from New York City public high schools, provides prevalence data for the city as a whole, for each borough, and for the Health Department's target areas in the South Bronx, North and Central Brooklyn, and East and Central Harlem. The full report is available at: http://www.nyc.gov/html/doh/downloads/pdf/survey/survey-2007teensafety.pdf.
###