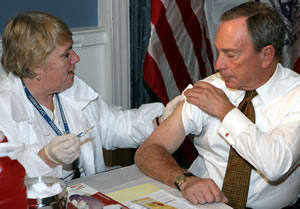 Photo: Spencer Tucker

NEW YORK CITY – November 14, 2007 – Dr. Thomas R. Frieden, Health Commissioner for New York City, today joined Council Member Letitia James, local doctors and religious leaders at the Health Department's newly re-opened Fort Greene Immunization Clinic to encourage residents of Central Brooklyn to get immunized against influenza. The participating leaders received flu shots at today's event and encouraged Brooklyn residents to take advantage of this free, life-saving measure. Today's event followed a similar one yesterday at City Hall, where Mayor Bloomberg and other City Council members received their flu shots.

"Central Brooklyn residents are suffering illness and death that could be prevented with a simple flu shot," Dr. Frieden said. "We encourage all Brooklyn residents to take this important step to stay healthy and protect their friends and loved ones. Getting vaccinated can save your life."

"I'm delighted that the flu vaccine supply is plentiful this year," said Council Member Letitia James of the 35th District in Brooklyn. "Anyone who wants to protect themselves from influenza can get a shot. I encourage Brooklyn residents to come down to the new clinic and get a free shot today."

The Fort Greene clinic has undergone a $1.3 million renovation since it was temporarily closed in 2004. More than 15,000 patients visited the clinic annually in the years before it was renovated. More than 120 New Yorkers have gotten a flu shot at the new clinic since it opened just last week.
Too Few Central Brooklyn Residents Are Protected Against Influenza
Central Brooklyn has some of New York City's lowest vaccination rates, as well as its highest influenza death rates. The area includes Bedford Stuyvesant, Brownsville, Crown Heights, Flatbush and part of Fort Greene.
In Central Brooklyn, only 37% adults of age 65 and older got a flu shot during last year's flu season, compared with 59% of those citywide.
The death rate from influenza and pneumonia for people aged 65 to 84 in Bedford-Stuyvesant and Crown Heights is twice that of other areas in Brooklyn such as Coney Island-Sheepshead Bay and Greenpoint.
Vaccination rates vary by race as well as neighborhood. Only about half of black New Yorkers 65 and older got vaccinated during the 2005-2006 flu season, compared with nearly two-thirds of whites. Central Brooklyn's neighborhoods are 78% black.
People are three times more likely to get flu shots if their doctors recommend them. But one survey found that only 60% of Central Brooklyn residents got this potentially lifesaving advice from their health care providers.
"Influenza is not a bad cold," said Dr. Dexter McKenzie, President of the Provident Clinical Society and the Brooklyn Branch of the National Medical Association. "Influenza can kill. Fortunately, you can prevent it with vaccines that are safe and, contrary to rumors, do not cause the flu. Misinformation and mistrust keep too many of us from getting vaccinated. We cannot allow fear to keep us from doing the right thing for ourselves and loved ones. We all must play our part. Our health professionals must offer the flu vaccine to all who are eligible, and each of us has a responsibility to ask for the shot."
"Getting the flu shot is important," said Pastor Richard Calhoun of Calvary 1st Nigerian Seventh Day Adventist Church. "Anything we can do to increase our chances of staying healthy should be a top priority on our daily list of things to do. Each year, I tell people in my congregations to get a flu shot because the old saying is true: an ounce of prevention is better than a pound of cure."
The Health Department's Brooklyn District Public Health Office interviewed Central Brooklyn residents in 2005 to better understand their reluctance to get immunized. The findings suggest that skepticism about the vaccine, and general mistrust of the medical system, both play a role. Fewer than half of Central Brooklyn residents thought the vaccine was effective for preventing influenza, and half believed that the flu shot could cause the disease. The full report is available online at http://www.nyc.gov/html/doh/downloads/pdf/dpho/dpho-brooklyn-report-flu-2006.pdf.
Many Caribbean and African-American Central Brooklynites felt that home remedies, or their own cultural practices, were the best ways to stay healthy, and one-third said they were suspicious of modern medicine. Among their comments:
A lot of people take care of themselves. When I was young, if I was sick I would go to my grandmother's and she would give me something and I would be well.
I got the shot, but my wife believes that the flu shot causes the flu.
Some people say, 'I don't know what they're putting in my body and I don't trust it – period.'
Influenza Facts:
Influenza can be dangerous at any age. It is a leading cause of death among people 65 and older.
You cannot get influenza from a flu shot.
The flu shot is very safe and highly effective in preventing influenza.
Influenza is not a cold. It is much moresevere, appearing suddenly and lasting a week or longer. Symptoms include cough, fever, and body aches.
Who should get a flu shot?
Everyone who wants to reduce the risk of influenza should get a shot this year. It is especially important that the following groups get flu shots because they are at especially high risk of complications and death:
Adults age 50 and over – especially those over 65
Children between the ages of 6 months and 5 years
People with chronic medical conditions
The Fort Greene clinic, at 295 Flatbush Extension, is now open for free flu shots Monday through Friday from 8:30 a.m. to 2:30 p.m. No appointment is necessary. New Yorkers interested in getting a flu shot can call 311 for clinic locations, or use the vaccine locator online at: https://a816-health12ssl.nyc.gov/dohroot/prjFlp/.
About the Data
Data on flu immunization rates during the 2005-2006 flu seasons come from the New York City Community Health Survey (CHS) from 2006. The CHS is an annual telephone survey of 10,000 adults aged 18 and older from every neighborhood in New York City. Data on influenza and pneumonia mortality come from death certificates. Data on the attitudes and practices of Central Brooklyn residents and medical providers come from a Health Department study conducted in 2005 and published last fall.
###