NEW YORK CITY – October 19, 2007 – The Health Department today announced the launch of the Harlem Smoke-Free Home campaign to address the issue of secondhand smoke in East and Central Harlem. Children in Harlem are hospitalized for asthma at twice the rate of children citywide. According to a 2005 study, 32% of Central Harlem kids enrolled in a Harlem Children Zone Asthma Initiative program live with a smoker. And though New York City's smoking rate reached a low in 2006, the problem is worse in some parts of Harlem. Last year, the East Harlem rate was nearly twice as high as the citywide rate (31% versus 17.5%).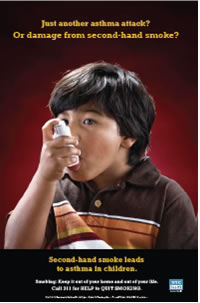 To counter this trend, the Health Department has launched a new media campaign and teamed up with local organizations to raise awareness about the danger of secondhand smoke. The campaign is also offering additional services – including nicotine patches at local clinics – to help people quit.
"When parents smoke at home, they put their children's health at risk," said Sarah Perl, the Health Department's Assistant Commissioner for Tobacco Control. "Secondhand smoke causes damage to children's developing lungs. Making your home smoke-free home is the best way to protect children from the dangers of secondhand smoke."
The campaign's display ads started appearing in Harlem subway stations and check-cashing establishments this week and will be up until December 15. The campaign also includes radio promotion and DJ announcements at events throughout Harlem. Produced in English and Spanish, the ads feature African-American and Latino children suffering from secondhand smoke-related illnesses such as asthma, ear infection, allergies and chronic cough. Secondhand smoke can also cause bronchitis and pneumonia in kids, and it increases the risk of sudden infant death syndrome. In addition, children whose parents smoke are twice as likely to become smokers themselves.
"It is difficult for parents who are addicted to tobacco to take responsibility for their children's chronic asthma," said Fajah Ferrer, Program Manager of Asthma Basics for Children at Northern Manhattan Perinatal Partnership. "They don't want to harm their children, but many have been unable to stop smoking. Making a home smoke-free is a goal for many parents, but some need extra help to reach it."
Through local home-visiting programs such as the Newborn Home Visiting Program, Health Department staff will distribute smoke-free home kits to families over the next year. Among other items, the kits include an information packet, a pledge calendar and a door sticker that says, "This is a Smoke-Free Home." In addition, the Health Department is working with community groups to organize workshops on smoke-free homes, while promoting the message at community events.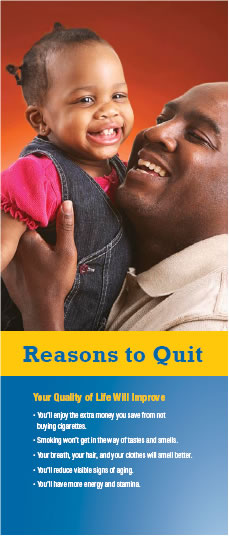 The New York City Housing Authority has also joined the effort by displaying smoke-free home posters in English and Spanish in some Manhattan developments.
Other community partners include:
Asthma Basics for Children
Boriken Neighborhood Health Center
Harlem Children's Zone Asthma Initiative
Harlem Hospital
Harlem Smoke-Free Coalition
Little Sisters of the Assumption Family Health Center
Mailman School of Public Health at Columbia University
Metropolitan Hospital
Northern Manhattan Perinatal Partnership
Harlem residents who want help to quit smoking can call 311. For more information on the campaign, residents can call the East and Central Harlem District Public Health Office at 646-672-2402.
Almost 70% of New York City homes are already smoke-free – including 40% of smokers have already made their homes smoke-free. Most smokers want to quit, and more than half try every year. Having a smoke-free home makes quitting a lot easier.
Here are 10 tips to make quitting easier:
1. Prepare yourself. Make a list of your reasons for quitting and read it often.
2. Pick a quit date. Get rid of ashtrays and lighters, and all cigarettes.
3. Have a smoke-free car and home. It is healthier for others and will help you resist smoking.
4. Get support and encouragement. Tell your family, friends, and coworkers that you are quitting and ask for their support.
5. Get a quit buddy. Ask a smoker to quit with you, or find someone who has already quit who you can talk to for support.
6. Notice what triggers cravings. Alcohol, coffee, and stress can make you feel like smoking – so can seeing others smoke.
7. Consider using medications. The nicotine patch or gum and medications can double your chance of success.
8. Help yourself cope. Drink a lot of water to help with cravings. Exercise to relieve stress.
9. Get your mind off smoking. Get busy with a simple task, talk to a friend or take a walk. Avoid places and situations you associate with smoking.
10. Stay away from that first cigarette! Having even one can make you start back up. Cravings will lessen the longer you resist them.
For more information on making your home smoke-free, please see http://www.nyc.gov/html/doh/downloads/pdf/public/dohmhnews4-09.pdf
###