NEW YORK CITY – July 10, 2007 – New Yorkers have a healthy appetite for fresh, local fruits and vegetables, according to results from a pilot program designed to encourage healthier food shopping at farmers' markets. The Health Department reported today that New Yorkers redeemed more than 40% of the 9,000 Health Bucks coupons distributed last year to purchase fresh fruits and vegetables at participating farmers markets. To build on that success, the agency will give out approximately 15,000 Health Bucks this summer, each one valued at $2.

Health Bucks are distributed through the Department's District Public Health Offices, in partnership with local community groups, in the South Bronx, North and Central Brooklyn, and East and Central Harlem. Nearly two thirds of adults are overweight or obese in these areas, as are 35% of public high school students and 40% of children in public elementary schools.
The Health Bucks initiative includes special incentives for food stamp recipients. Anyone spending $5 worth of food stamps at a farmers' market receives a $2 Health Buck coupon. This is also part of an effort to get more farmers markets to accept food stamps and Electronic Benefit Cards/EBT. "We want more New Yorkers to be able to take advantage of farmers' markets and bulk up on nutritious, fresh fruits and vegetables," said Dr. Jane Bedell, Assistant Commissioner for the Bronx District Public Health Office. "A trip to the local farmers' market can be a fun summer outing and Health Bucks make it more affordable. Local produce is not only delicious, but it can help prevent heart disease and diabetes, which are heavily affecting our communities."
More than 30 markets are participating citywide, and half of them accept food stamps. Local partners in the Health Bucks program report that Bronx residents are eager to take advantage of it. "Last year we distributed Health Bucks to a number of schools and health centers in the Southwest Bronx," said Geysil Arroyo, program coordinator at the Institute for Urban Family Health. "This year, wherever we go, people are asking us to bring more!"
Participating locations are listed on the coupon and mapped on the Health Department's website at www.nyc.gov/html/doh/html/cdp/cdp_pan_health_bucks.shtml. The Greenmarket summer season kick-off will happen at Poe Park in the Bronx on Tuesday, July 10 at 11:00 A.M.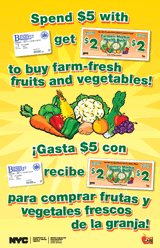 Besides supporting local growers, urban farmers' markets can help expand food options in underserved neighborhoods. Recent Health Department surveys have found large differences in people's access to fresh produce:
Harlem has many bodegas and corner stores, but they are seven times less likely than Upper East Side shops to stock certain common vegetables.

Only 21% of bodegas in Bedford-Stuyvesant carry apples, oranges, and bananas.

Only 6% of corner stores in Bedford-Stuyvesant and Bushwick sell leafy green vegetables.
The Health Bucks program builds on other efforts to expand access to healthy foods and promote physical activity in East and Central Harlem, Central Brooklyn and the South Bronx, including:
Making low-fat milk more accessible in stores through the Healthy Bodegas initiative.

Improving physical-education programs and equipment in 200 schools, after-school programs, daycare centers and Head Start programs.

Co-sponsoring – with the Department of Parks and Recreation, NYCHA and local organizations – more than two dozen free family fitness programs for area residents.
Healthy eating can prevent illnesses such as obesity, diabetes, heart disease, cancer and high blood pressure. Fruits and vegetables are high in fiber, vitamins and minerals, and low in fat, calories and sodium. The U.S. Dietary Guidelines recommend that most people eat about two cups of fruit and two and a half cups of vegetables each day. Most servings should come from whole fruits and vegetables rather than juice.
For a list of participating markets and their locations, visit: www.nyc.gov/html/doh/html/cdp/cdp_pan_health_bucks.shtml
To find out how many fruits and vegetables you need, visit: www.mypyramid.gov/downloads/MyPyramid_Food_Intake_Patterns.pdf
For a list of all farmers markets in New York City, visit: www.nyfarmersmarket.com/regionmetro.htm and www.nyccah.org/maps/farmers.php
###