NEW YORK CITY – June 25 2006 – To reduce mosquito activity in the Rockaways, the New York City Department of Health and Mental Hygiene (DOHMH) will spray pesticide from trucks in parts in the Rockaways in Queens from Wednesday June 27, 2007 at 8:15 P.M. to 6:00 A.M. the following morning, weather permitting. In case of bad weather, spraying will be delayed until Thursday, June 28 or the next possible night. No West Nile virus has been detected there, or anywhere in New York City this season, and no human cases of West Nile virus have been identified to date.
The Health Department sprays certain areas in the Rockaways annually because the natural environment is conducive to high levels of mosquito activity. The areas to be sprayed in Rockaways, Queens follow (also see map below):
| | | | |
| --- | --- | --- | --- |
| Borough | Neighborhood | Boundaries | Zip Code |
| Queens | Arverne/Somerville | Grass Hassock Channel and Beach 65th Street and De Costa Avenue to the north; Beach 75th Street to the west; Beach Channel Drive and Arverne Blvd and Rockaway Beach Blvd to the south; Beach 54th Street to the east. | 11692 |
|   | Edgemere | Almeda Avenue, Conch Basin and Norton Basin (Grass Hassock Channel) to the north; Beach 54th Street to the west; Norton Drive to the east; Rockaway Beach Blvd to the south. | 11691 |
|   | Bayswater | Norton Ave and Norton Basin to the west; Mott Basin to the north; Dickens street to the east; Beach Channel Drive to the south. | 11691 |
|   | Edgemere Park and Landfill | Inside the Park and Landfill |   |
Definition of "adulticiding" –

Spraying a liquid insecticide from trucks to kill adult mosquitoes. Can take place in residential or non-residential areas.

For this spraying, the Health Department will use Anvil 10+10 (Sumithrin), a synthetic pesticide for mosquito control efforts. While there are no significant risks of adverse impact to human health associated with the proper use of this product, the Health Department recommends that people take the following precautions to avoid direct exposure to pesticides and reduce the risk of reactions:
Whenever possible, stay indoors during spraying.
Some individuals are sensitive to pesticides. Persons with asthma or other respiratory conditions are encouraged to stay inside during spraying since there is a possibility that spraying could worsen these conditions.
Air conditioners may remain on. But if you wish to reduce the possibility of indoor exposure to pesticides, set the air conditioner vent to the closed position, or choose the recirculate function.
Remove children's toys, outdoor equipment and clothes from outdoor areas during spraying. If outdoor equipment and toys are exposed to pesticides, wash with soap and water before using again.
Wash skin and clothing exposed to pesticides with soap and water. Always wash your produce thoroughly with water before cooking or eating.
To Reduce Exposure to Mosquitoes Around Your Home:
Repair or replace all screens that have tears and holes.
Eliminate any standing water that collects on your property:
Dispose of containers that can collect standing water.
Make sure roof gutters drain properly and rooftops are free of standing water.
Clean and chlorinate swimming pools, outdoor saunas and hot tubs.  Keep them empty and covered if not in use; drain water that collects in pool covers.
Vases are prohibited in cemeteries during West Nile virus season.
The use of pesticides in New York City is conducted in accordance with federal Environmental Protection Agency (EPA) and the New York State Department of Environmental Conservation (DEC) guidelines. A complete Environmental Impact Statement (EIS) is available at http://www.nyc.gov/html/doh/html/wnv/feis.shtml.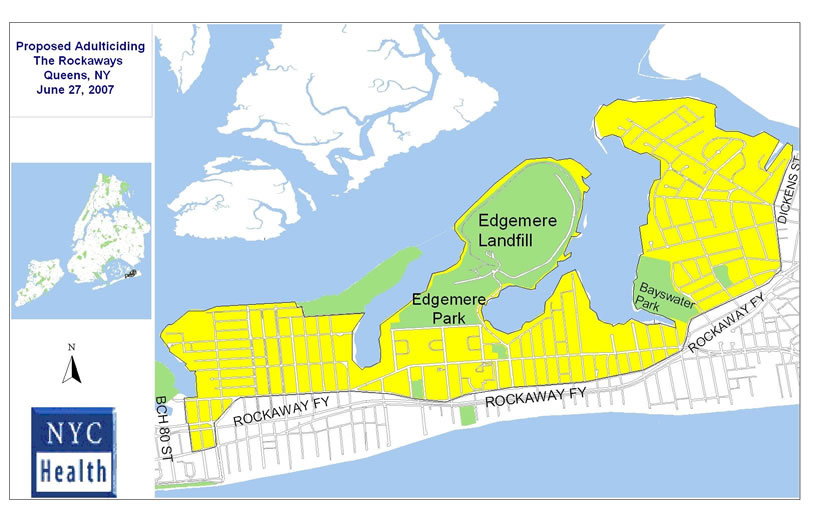 ###