NEW YORK CITY – June 6, 2007 – More New Yorkers are getting life-saving colonoscopies than ever before, the Health Department announced today, and people of all races and incomes are benefiting. The test – which can detect, prevent, or cure colorectal cancer – is generally recommended once every decade for people 50 and older, and earlier for those with a family history of the disease. Four years ago, only 43% of New Yorkers age 50 and older had been screened during the previous decade. Health officials will announce today that 60% of New Yorkers 50 and older had a colonoscopy in the past ten years, an increase of some 350,000 tests compared with 2003. The announcement is being made at the 4th Annual Citywide Colon Cancer Control Coalition (C5) summit at the American Conference Centers (780 Third Avenue, between 48th & 49th Streets).
"In 2003, we set a five year goal to increase the percent of New Yorkers 50 and older who have been screened for colon cancer to 60%," said Mayor Michael R. Bloomberg. "I'm proud to report that we've reached that goal two years ahead of schedule. Since 2003, colonoscopies increased among New Yorkers of all races, ethnicities, income level and insurance status. That means – across the board – more cancers will be prevented, and lives will be saved."
While whites were more likely than either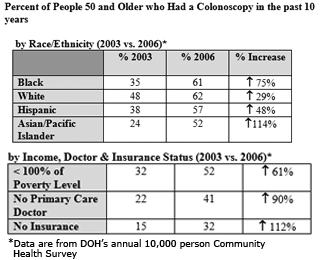 blacks or Hispanics to have had a colonoscopy in 2003, the three groups' screening rates were nearly equal in 2006, just four years later. "More people are getting colonoscopies to prevent or find early colon cancer and it is saving lives," said Health Commissioner Dr. Thomas R. Frieden. "The health gap for screening for this important cancer is closing. We've accomplished a great deal, but we have more to do. We want to increase  the colon  cancer screening level to more than 80% of New Yorkers over 50 in the next 5 years."

The NYC Health and Hospitals Corporation (HHC) has tested nearly 71,000 New Yorkers over the past 4 years. "HHC's partnership with the Health Department, the American Cancer Society and the City Council has enabled our public hospitals to increase access and double the number of patients receiving a colonoscopy – the gold standard of colon cancer screening," said HHC President Alan D. Aviles. "As a result, we are removing more pre-cancerous polyps and diagnosing more cancer at an earlier stage where treatment is most effective."
Citywide Efforts to Promote Cancer Screenings
"Get checked for cancer" is one of the top 10 priorities of Take Care New York, the City's health policy. The Health Department is two years ahead of schedule for meeting its 2008 goal of having 60% people 50 and older screened for colon cancer. The agency now hopes to push the rate to more than 80% by 2011. This would represent a doubling of the 2003 rate, and would bring screening rate closer to those for breast or cervical cancer.
The Health Department, with the support of the New York Community Trust, has supported expansion of colon cancer navigators – health care workers who help people understand and prepare for the procedure – at nearly a dozen area hospitals. The Citywide Colon Cancer Control Coalition is also reaching out to health plans and employers this year with workplace wellness initiatives that encourage colonoscopy.
HHC and the Health Department have carried out wide-scale public awareness campaigns to highlight the importance of colon cancer screenings. And the City Council has generously supported colonoscopy for the uninsured through a grant to the American Cancer Society and 16 New York City hospitals.
If you're 50 or older and haven't had a colonoscopy, ask your doctor about getting one today. Free or low-cost colon cancer screenings are provided at many HHC facilities and partner hospitals in every borough. The screenings are available to all New Yorkers regardless of immigration status or ability to pay. New Yorkers can dial 311 or visit nyc.gov/hhc to get more information or make an appointment.
###