NEW YORK CITY – May 31, 2007 – More than 10 million NYC Condoms are in the hands of New Yorkers, just three months after the launch of the country's first official city condom. The Health Department distributed 5 million NYC condoms during its first month, and 3.7 million in its second month—still more than twice the monthly distribution before the Gotham-themed packages debuted. Orders topped 10 million in early May, as almost 1,600 local organizations received free condoms by ordering at www.nyccondom.org or by calling 311.
"We're getting New York City covered," said Health Commissioner Dr. Thomas R. Frieden. "Thanks to almost 1600 organizations and many New Yorkers, we've distributed 10 million NYC Condoms, and most have gone to neighborhoods most affected by HIV and teen pregnancy. We've got plenty more. Any New Yorker who wants NYC condoms should visit www.nyccondom.org or call 311."
"Customers come in all the time asking for NYC Condoms," says Megan Giometti, manager of Chelsea's Black Door bar. "They're great for business—people really want them and know we have them."
"The NYC Condoms are moving," says Fatima Prosper, co-owner of Folukie Restaurant in Bedford-Stuyvesant. "Customers take them for themselves, or if they're shy, we tell them to take some for their friends and their neighbors—then they definitely grab some."
Who's Getting Some?
Half of the 1,600 establishments that have received NYC Condoms are new customers, just now placing their first orders. One in every three NYC Condoms went to organizations in Central Brooklyn, Central/East Harlem and the South Bronx, where the Health Department focuses outreach efforts. An additional 800,000 condoms have been distributed in Manhattan's Chelsea and Clinton neighborhoods.
Health-care and social-service organizations accounted for 44% of condom orders. Community and senior centers accounted for 7% of deliveries, and schools and universities received 9%. Businesses are also getting in on the action, with 4% going to bars and clubs, 5% to event planners, and 1% going to beauty parlors, health clubs, and movie theaters.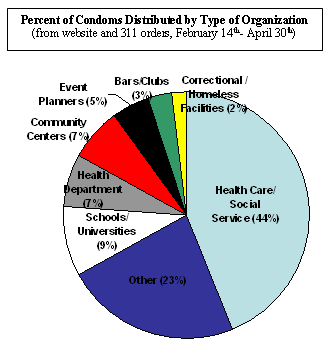 For more information on the NYC Condom, visit www.nyccondom.org or call 311.
###