NEW YORK CITY – May 16, 2007 – Harlem residents have fewer healthy food options, according to a new Health Department report on food availability in East and Central Harlem. While Harlem has many bodegas and corner stores, they are about half as likely to carry low-fat dairy products and seven times less likely to offer certain common vegetables as their Upper East Side counterparts. "Eating Well in Harlem: How Available Are Healthy Foods?" compares all food establishments in East and Central Harlem to a sample of Upper East Side locations. The full report is available online at http://www.nyc.gov/html/doh/downloads/pdf/dpho/dpho-harlem-report2007.pdf.
"Bodegas are convenient but offer fewer healthy options," said Health Commissioner Dr. Thomas R. Frieden. "And there are three times as many fast-food restaurants per person in Harlem as there are in nearby neighborhoods. Diabetes and heart disease—which are related to an unhealthy diet—cause more than a third of deaths in East and Central Harlem each year. All New Yorkers should have the option to buy healthy foods in their neighborhoods."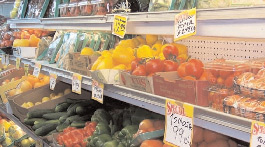 "Large health disparities exist between Harlem and other New York City neighborhoods, but we can close those gaps," said Dr. Andrew Goodman, Associate Commissioner of the East and Central Harlem District Public Health Office. "Harlem residents are three to four times more likely than Upper East Siders to be obese or have diabetes. We are working with the community to create more opportunities for healthy eating and exercise."
To address disparities and to share information that will help reduce gaps in health and food options, the Health Department has convened the Harlem Food and Fitness Consortium, an alliance of more than 40 community partners launched a neighborhood-wide campaign to provide advocacy for healthy policies.
"We won't let obesity and diabetes ravage Harlem any longer," said Mario Drummonds from the Northern Manhattan Perinatal Partnership. "Working together, the Harlem Food and Fitness Consortium will make Harlem an even better place to eat, play and live."
Key Findings from the Report
In East and Central Harlem, bodegas or corner stores are twice as common as on the Upper East Side (66% vs. 33% of surveyed food stores). Supermarkets, which offer more healthy food choices, are much more common on the Upper East Side.
Harlem bodegas are about half as likely as those on the Upper East Side to sell low-fat dairy products (milk, yogurt and cottage cheese). Only 3% of corner stores in Harlem sell leafy green vegetables compared to 20% on the Upper East Side.
One in six restaurants (16%) in East and Central Harlem is a fast-food restaurant compared to 4% on the Upper East Side.

Foods that are high in vitamins and fiber, and low in fat and sodium, make it easier to achieve and maintain a healthy weight. Being overweight or obese increases the risk of diabetes, high blood pressure, high cholesterol, heart disease, cancer, and other conditions.
Promoting Healthy Eating and Physical Activity
Increasing access to healthy foods in low income communities is an important goal of the Bloomberg administration. As a member of the recently created Food Policy Taskforce, and in close collaboration with the Food Policy Coordinator, the Health Department partners with other agencies and organizations to increase access to food supports, increase the availability of healthy foods, provide opportunities for physical activity, and to improve the nutritional standards followed by City agencies. More specifically, the Health Department is:
Bringing physical activity curriculum, training and equipment to more than 600 teachers in approximately 200 schools, after-school programs, daycare centers and Head Start programs in East and Central Harlem.
Launching a Healthy Bodega campaign to increase availability of low-fat milk in neighborhood stores.
Working with greenmarkets and local hospitals to find new sites for farmers' markets.
Distributing "Health Bucks," redeemable at farmers' markets for fresh fruits and vegetables, to Harlem residents.
Co-sponsoring, with the Department of Parks and Recreation, a free family fitness program for residents of East and Central Harlem.
For more information about healthy eating, visit nyc.gov/health

###