NEW YORK CITY – May 3, 2007 – Sales of over-the-counter allergy medications have doubled in the past week—one indication that spring allergy season is here. The Health Department routinely monitors these sales as well as asthma emergency department visits, which tend to pick up in the spring because pollen is a trigger for asthma attacks. The Health Department reminds New Yorkers with asthma and the parents of children with asthma to make sure they are following an asthma action plan that can help manage asthma and avoid attacks.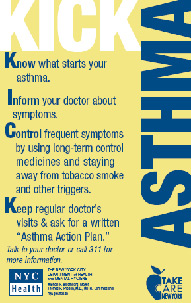 Most common allergy medications do not prevent asthma attacks and are no substitute for the right prescribed asthma medication. "Asthma can be controlled with the right care and medications," said Health Commissioner Dr. Thomas R. Frieden. "During allergy season, when pollen may trigger symptoms, New Yorkers with asthma should talk to their doctor and make sure that their asthma action plan is up to date. It's especially important that those with persistent asthma ask their doctors about inhaled corticosteroids, the most effective long-term treatment. New Yorkers can also eliminate a major asthma trigger by making their homes smoke-free."
Although New York City's childhood asthma hospitalization rates decreased by 17% between 2004 and 2005, the rate remains about twice as high as the national rate. Children in certain NYC neighborhoods, such as Harlem and parts of the South Bronx, are hospitalized for asthma at four times the national rate. Asthma remains a leading cause of missed school and emergency department visits, many of which can be prevented with the right medication.
Air pollution is also a common asthma trigger. Mayor Bloomberg recently proposed a series of initiatives designed to improve air quality citywide, including reducing congestion, improving mass transit, increasing the number of clean vehicles, and planting over one million trees in the next decade.
Active Asthma Management
Individuals with asthma can take several steps to manage their asthma:
If you have frequent asthma symptoms talk to your doctor about whether you should take inhaled corticosteroids to prevent attacks.
Work with your (or your child's) doctor to develop an Asthma Action Plan.
Take medications as directed by your health care provider.
Work with your doctor to find out what triggers your asthma and how to limit exposure.
If your child is in school, ask your child's doctor to complete a school medication administration form so that your child can take asthma medicines at school if necessary.
Get a flu shot every year
Prevent Asthma Episodes
Stay away from cigarette smoke, including in your home or car. If you smoke, get help to quit.
When pollen or pollution is bad, use an air conditioner (don't forget to clean the filter frequently!) and keep windows closed if you can.
If you are allergic to tiny bugs called dust mites in beds and pillows, protect yourself and your child where you sleep by doing the following:
•Put special dust mite-proof covers on the mattress and pillow.
•Wash sheets, blankets, and the mattress pad in very hot water every week to kill dust mites.
•Pick a stuffed animal for your child that can be washed with the sheets. Take rugs, soft chairs with cushions, extra pillows, and other stuffed animals out of the bedroom.
Find new homes for furry pets and birds if you are allergic to them. If you cannot give a pet away yet, keep it out of the bedroom at all times.
Get rid of roaches, a common asthma trigger.
The Health Department works closely with schools, health care organizations, doctors and community partners to improve asthma care and encourage asthma management. The Department continues to convene the New York City Asthma Partnership (NYCAP), a coalition of more than 300 individuals and organizations working to address asthma citywide.
This year, the department has given small World Asthma Day grants to several community organizations to enhance asthma screening, increase awareness, and support self-management activities for individuals with asthma. The following organizations are grant recipients:
Central & North Brooklyn: Northern Brooklyn Asthma Action Alliance (Woodhull Health & Mental Health Center
Brownsville & East New York, Brooklyn: Brownsville Youth Association
South Bronx: South Bronx Asthma Partnership (Bronx Lebanon Hospital Center)
East & Central Harlem, Manhattan: Columbia Asthma Basics for Children
Far Rockaway, Queens: Queens Comprehensive Perinatal Council
For more tips on how to manage asthma, please visit http://www.nyc.gov/html/doh/html/asthma/atake.shtml.
###