NEW YORK CITY – May 1, 2007 – Health and faith community leaders joined together today at Brooklyn's Borough Hall to launch a year-long "Cut the Salt, Brooklyn" awareness campaign. Dr. Mary T. Bassett, the City's Deputy Health Commissioner for Health Promotion and Disease Prevention along with Brooklyn Deputy Borough President Yvonne Graham, Pastor Brian Carter and Dr. Dexter McKenzie, joined in urging all New Yorkers to lower their salt intake to reduce their risk of having high blood pressure. The campaign is sponsored by the Borough of Brooklyn Ecumenical Advisory Group, a consortium of faith based institutions convened by the New York City Health Department, with collaboration from the Brooklyn Borough President's Office, the Provident Clinical Society and the American Heart Association.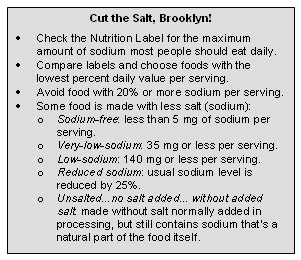 The campaign aims to raise awareness about salt intake and its relationship to blood pressure. It will focus on helping people to identify "hidden" salt in processed foods—where most of the salt we eat comes from, and teach practical ways to limit salt intake to reduce high blood pressure (hypertension). In addition to today's kickoff, there will be events occurring in Brooklyn throughout the coming weeks and months. These include cooking classes, shopping tours, low sodium cooking contests at several faith-based organizations, information distribution in collaboration with a major supermarket chain, health fairs and blood pressure screenings.
"One in three Brooklyn residents report that they have high blood pressure," said Deputy Health Commissioner Dr. Mary T. Bassett. "High blood pressure causes stroke and heart disease, two of the City's leading causes of death. And people who eat too much salt are more likely to have high blood pressure. I would like to thank our community leaders for promoting this critical initiative to keep Brooklyn residents healthy."
"There is a critical need in our community to protect against heart disease," said Deputy Borough President Graham. "A third of our residents have high blood pressure, and that is too many. We want to make Brooklyn the healthiest it can be, and reducing your salt intake is an important step in the right direction."
"As a Pastor and member of the Northeastern Conference of Seventh Day Adventists, I am concerned about the health of our community," said Pastor Brian Carter, who is also President of the Brooklyn Ecumenical Advisory Group. "We have been working with the Department of Health and Mental Hygiene to get the word out about keeping a healthy heart. Everyone should limit the salt in their diet, and a high salt diet is especially bad for people who already have high blood pressure, people who are middle aged and older, blacks and people with diabetes or kidney disease."
"Knowledge is power," said Dr. Dexter McKenzie, President of the Provident Clinical Society, Brooklyn Branch of the National Medical Association. "This campaign will increase our knowledge about keeping our hearts healthy. If you limit your salt intake over time by picking processed foods with less salt, you won't even notice a difference. Looking for the hidden salt is one important step everyone can take today to start on the road to a healthier heart. We need knowledge to empower ourselves, and I'm pleased that the Health Department and our community leaders are working with us to empower Brooklyn."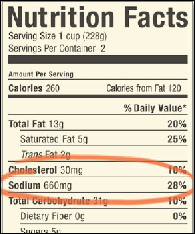 Beware of "Hidden" Salt
Most of the salt people eat is not from the salt shaker. It's already in pre-packaged, processed, store-bought foods and restaurant meals (especially fast food).



One frozen dinner may have more than a day's worth of salt.



One blueberry muffin or one plain bagel can have more than 500mg of sodium, a quarter of the recommended daily intake.



A half-cup serving of canned goods can contain 350mg of sodium, about 20% of the recommended daily intake.



Always read the Nutrition Facts panel when you shop.
How to Lead a Low-Salt Life
Most people should eat no more than 2,300 mg of sodium per day.



People with high blood pressure—including people middle aged and older, and blacks—should eat no more than 1,500 mg of sodium a day.



Choose fresh fruits and vegetables and homemade baked goods over pre-packaged, processed, foods.



If getting fresh fruits and vegetables is difficult, choose frozen ones. They generally have less salt than canned foods.



When buying canned foods, choose low-sodium varieties if possible.



Look for sodium on the Nutrition Facts label, and try to stay away from foods that provide 20% or more of the daily value in one serving.



Flavor foods with pepper, garlic, celery seed, onions, ginger, parsley, lemon or lime juice, vinegar, curry powder or other herbs and spices in place of salt. Avoid seasonings that may contain salt (celery salt, garlic salt, etc.).



Ask restaurants to prepare your meal with low or no salt.
Significant Heart Health Disparities in Brooklyn
One in three Brooklyn residents reports having high blood pressure.



Blacks report higher rates of high blood pressure (38%) than Asians (35%), Latinos (33%) or Whites (27%).



One in four Brooklyn residents is obese.



Blacks report higher rates of obesity (30%) than Whites (19%), Latinos (27%) or Asians (7%).



One in three Brooklyn residents report being physically inactive over the past 30 days.



Latinos in Brooklyn report higher rates of physical inactivity (42%) than African Americans/Blacks (36%), Asians (32%) or Whites (27%).
###