NEW YORK CITY – April 25, 2007 – The Health Department today unveiled a two-pronged effort to help smokers quit. From now through May 15, the Health Department will offer nicotine replacement at no cost to smokers who request it through 311. This year's offer includes nicotine gum as well as patches. The Health Department is also launching a multimedia advertising campaign featuring Ronaldo Martinez, a former smoker who lost his voice to throat cancer at age 39.
"Nine out 10 smokers want to quit, but quitting can be tough," said Health Commissioner Dr. Thomas R. Frieden. "Most New Yorkers who ever smoked have already quit. For those who are still smoking, a nicotine patch or gum can double your chances of quitting for good. New Yorkers who want help quitting should call 311 today."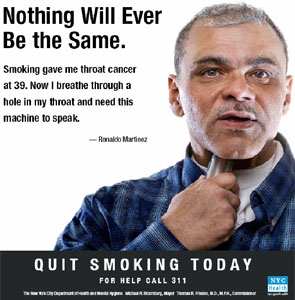 Smoking remains the leading preventable cause of death in New York City. Cigarettes kill 9,000 New Yorkers a year—more than 25 every day—and more than 1 million people still smoke.
In the new advertising campaign launched today—which includes an interactive internet component—Mr. Martinez recounts how much he has suffered from smoking. He developed throat cancer at 39, and now breathes through a hole in the front of his neck and can only speak through a mechanical device. The campaign features Mr. Martinez speaking in amplified vibrations from his throat to produce monotone speech. The tagline: Nothing Will Ever Be the Same.
The ads will run on television and radio, as well as in subways, check cashing outlets and on payphone kiosks in English and Spanish. Internet ads will allow people to email an audio message in Mr. Martinez's voice to friends and loved ones to encourage them to quit. This feature, along with other components of the campaign, is accessible at nyc.gov/health.
"Mr. Martinez's powerful story shows us that the effects of smoking can be painful and disabling," said Dr. Frieden. "His honesty about how smoking has changed his life forever has already inspired many people to quit."
Quit Tips
Prepare yourself. Make a list of your reasons for quitting and read it often.

Pick a quit date. Get rid of ashtrays and lighters, and all cigarettes.

Have a smoke-free car and home. It is healthier for others and will help you resist smoking.

Get support and encouragement. Tell your family, friends, and co-workers that you are quitting and ask for their support.

Get a quit buddy. Ask a smoker to quit with you, or find someone who has already quit who you can talk to for support.
Get Help Quitting from the City's Public Hospitals
Assistance with quitting is also available through the New York City Health and Hospitals Corporation (HHC), which continues to offer free or low-cost services to help people quit, including counseling and other resources, at more than a dozen sites. Nearly 22,000 New Yorkers enrolled in HHC's Smoking Cessation program during 2006, and through the combined use of nicotine replacements, individual counseling and group support many were still smoke-free after six months. To find the location nearest you, see below, call 311, or log on to http://www.nyc.gov/html/hhc/html/services/smokingcessation.shtml.
HHC SMOKING CESSATION FACILITIES
THE BRONX

BROOKLYN

Segundo Ruiz Belvis Diagnostic & Treatment Ctr.
545 East 142nd Street

Coney Island Hospital
2601 Ocean Parkway

Jacobi Medical Center
1400 Pelham Parkway South

Kings County Hospital Center
451 Clarkson Avenue
Lincoln Medical and Mental Health Center
234 East 149th Street

Woodhull Medical and Mental Health Center
760 Broadway
Morrisania Diagnostic & Treatment Center
1228 Gerard Avenue

MANHATTAN

North Central Bronx Hospital
3424 Kossuth Avenue
Bellevue Hospital Center
462 First Avenue @ 27th Street

QUEENS

Gouverneur Health Care Services
227 Madison Street
Elmhurst Hospital Center
79-01 Broadway

Metropolitan Hospital Center
1901 First Avenue @ 97th Street
Queens Hospital Center
82-70 164th Street
Harlem Hospital Center
Ronald Brown Pavillion Bldg
530 W 137th St, 3rd Fl.
For more info on quitting, please see the new Still Smoking? Health Bulletin at http://www.nyc.gov/html/doh/downloads/pdf/public/dohmhnews5-12.pdf.
###