NEW YORK CITY – April 18, 2007 – One in four men in New York City (23%) report binge drinking, according to the Department of Health and Mental Hygiene's (the Department) most recent annual phone survey. Overall, nearly 900,000 New Yorkers (14%) reported binge drinking in 2005. Binge drinking is defined as having five or more drinks on one occasion during the past month. More than 1,400 New Yorkers died of alcohol-related causes in 2005; two out of three of these deaths were men. The city's binge drinking rates were lower than the national rates (24% of adults and 31% of men in 2005), but they have not changed since 2002.
The Department urges New Yorkers who regularly binge drink or think they might have a drinking problem - as well as people with friends or loved ones who may have a drinking problem - to get help by calling 311 and asking for LifeNet, or by talking to a doctor. The Department launched a 10-week campaign in March to encourage doctors to screen patients for problem drinking, and published a new Health Bulletin, "How Much is Too Much?" to educate New Yorkers (available at: http://www.nyc.gov/html/doh/downloads/pdf/public/dohmhnews6-02.pdf).
New York City men are more than three times as likely as women to report binge drinking (23% vs. 7%). Approximately one in four Hispanic and white males reported binge drinking, compared to about one in six black men and one in eight Asian men. White women are more likely to binge drink than black, Hispanic, or Asian women, but still half as likely to do so as men.
"Alcoholism is a disease, but recovery is possible," said Health and Mental Hygiene Commissioner Dr. Thomas R. Frieden. "People can, and do, get better every day. Drinking too much can lead to liver damage, injuries, cancer, and death. New Yorkers who regularly drink excessively, or who drink to get through the day should talk to a doctor. They can also call 311 and asking for LifeNet, or go to an Alcoholics Anonymous meeting."
The Department's efforts to combat unhealthy drinking include the "Alcohol Screening and Brief Intervention" campaign, designed to help health care providers recognize and address problem drinking in their patients. Less than halfway through the 10-week campaign, Department representatives have already distributed Action Kits to more than 250 health care providers in the South Bronx, East and Central Harlem, and North and Central Brooklyn - areas with the largest share of preventable illness and death. Kits include clinical tools, resources, and patient education materials that can help clinicians provide clear and personalized advice, set acceptable goals, and make treatment referrals. To view the kit, visit www.nyc.gov/health/publichealthdetailing.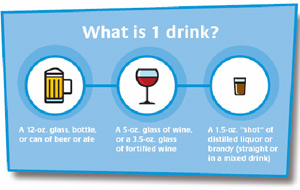 How Much Is Too Much?
Women and people 65 and older should limit alcohol intake to three drinks on one occasion or seven a week. Men should avoid drinking more than four drinks on one occasion or 14 a week.
Alcoholism Is a Disease.
Alcohol dependence is a treatable disease, and one that usually gets worse unless addressed. Some of the symptoms include:
Craving—a strong urge to drink.
Loss of control—being unable to stop drinking
Physical dependence—withdrawal symptoms (nausea, sweating, shakiness, anxiety).
Increased tolerance—the need to drink greater amounts of alcohol to feel its effects.
Effects of Unhealthy Drinking
Drinking at any level can be problematic if it harms the drinker or affects others. Consuming even a small amount of alcohol with some medications or when pregnant is dangerous. Just one drink can accelerate liver damage in people with hepatitis.
Excessive drinking increases the risk of cirrhosis of the liver, pneumonia, hepatitis, osteoporosis, hypertension, and many cancers. It can also increase the risk of accidents and injuries, violence, depression, and suicide. Binge drinkers are also more likely to smoke heavily (43% vs. 37%), use drugs (19% vs. 7%), and have multiple sexual partners (17% vs. 6%) than those who don't binge drink.
Looking honestly at your own drinking can be difficult. Not doing so is called "denial" and is one of the problems that often accompany unhealthy drinking. However, many treatment options are available. For help and information:
Talk to your doctor or a substance abuse counselor.
Call 1-800-LIFENET (1-800-543-3638) or call 311 and ask for LifeNet to get help with alcohol or other substance abuse problems.
Call Alcoholics Anonymous or go to a meeting: www.nyintergroup.org or 212-647-1680.
###