NEW YORK CITY – April 4, 2007 –The rubber is hitting the road in New York City. The Health Department announced that it has distributed 5 million NYC Condoms during the month following the new product's Valentine's Day launch. That's more than triple the number of condoms given out in January, before the debut of the subway-themed package, and a larger quantity than the agency distributed throughout 2003. Between February 14 and March 14, more than 800 organizations—including medical providers, small and large businesses, university student groups, event planners, theaters, media outlets, bars, restaurants, community organizations and religious groups—requested the nation's first city-branded condom through the website and 311. Local organizations placed new orders for nearly 4 million condoms during that period, and the Health Department fulfilled 1 million existing orders.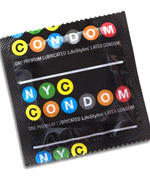 "The NYC Condom is a sensation," said Health Commissioner Dr. Thomas R. Frieden. "Hundreds of community organizations are signing up to give out free condoms, many for the first time. I commend them for doing their part to prevent sexually transmitted diseases and unplanned pregnancies, and I urge anyone who wants an NYC Condom to visit www.nyccondom.org or call 311."
The Health Department also announced that the NYC Condom website, www.nyccondom.org, received more than 15,000 visits during the first week of the NYC Condom campaign, and almost 35,000 visits during the first month. Any New York City organization can order free condoms through the website, which also provides a full press kit and a guide to locations throughout the five boroughs where anyone can pick up the condoms for free.
"Our customers keep asking for more NYC Condoms," said Peace St. Clair, a barber at the Levels Hair Salon of Harlem, one of the many local businesses that distribute the new condoms. "Now they're saving money while protecting themselves. If the condom is free and keeps them healthy, it's for them."
The crowds have been just as enthusiastic at the Pieces Bar in Greenwich Village, where Brandon Griewank works as a manager. "We've been pushing free condoms for years," he said, "but the NYC Condoms sell themselves. They're going by the handful. People are always commenting on their sleek look and their catchy ad campaign. They capture the style and wit of New York."
Highlights of the NYC Condom launch:
City-wide media campaign including Spanish and English radio spots and promotional posters in telephone kiosks, check-cashing venues, and subways
Bar and club parties featuring NYC Condom party packs
Long-term distribution through 280 participating organizations and small businesses
Additional long-term distribution through launch partners Kenneth Cole and Theory Stores, paving the way for other retailers

For more information on the NYC Condom, visit www.nyccondom.org or call 311.
###