NEW YORK CITY – March 21, 2007 – New cases of active tuberculosis (TB) continue to decline in New York City, the Health Department announced today. The Health Department confirmed 954 cases of TB identified in 2006, a 3% decrease from the previous year, when 984 cases were confirmed. Multi-drug resistant TB accounted for 21 of these cases. Foreign-born New Yorkers continue to be disproportionately affected, accounting for 70% of new TB cases.
"Tuberculosis can be both prevented and cured," said Health Commissioner Dr. Thomas R. Frieden. "We've made significant progress in reducing the risk of this disease in New York, and in controlling the drug-resistant strains. But New York City's TB rate is still double the rate of the nation, and we have much to do to lessen the impact on foreign-born New Yorkers."
TB Diagnoses among Foreign-Born New Yorkers
Foreign-born New Yorkers accounted for 672 new diagnoses of TB last year, a decline of 3% from 690 cases in 2005. However, the TB rate in New York's immigrant community is 28.4 per 100,000 people – more than five times the citywide average for U.S.-born residents (5.4) and more than six times the national rate, which was 4.8 in 2005, the latest year for which national data are available. The most common countries of origin for newly diagnosed TB patients were: China (110 cases), the
Dominican Republic (53), Ecuador (50), Mexico (47), and the Philippines (35). Queens and Brooklyn, the boroughs with the largest proportion of foreign-born residents, also have the highest TB caseloads.
QuantiFERON®-TB Gold: A New Test for TB Infection
The Health Department also announced that it has started to use a new blood-based screening test for TB infection called QuantiFERON®-TB Gold. The test has been approved by the federal Food and Drug Administration and is endorsed by the Centers for Disease Control and Prevention. The test is more accurate than the tuberculin skin test (TST) for the foreign born who have been given the BCG (bacille Calmette-Guérin) vaccine against TB because it can lead to false positive results on the TST. BCG is used in many countries with a high TB rates but is not recommended for use in the United States. Positive results from either test require further evaluation with chest x-rays and a medical exam.
The Health Department offers the QuantiFERON® test at its Bedford, Brownsville, Bushwick, Fort Greene, Chelsea, and Corona clinics and is implementing it at all clinics.
"The QuantiFERON® test is much more specific than the skin test and much less likely to return a false positive," said Dr. Sonal Munsiff, Assistant Commissioner of the Bureau of Tuberculosis Control. "It's especially important for foreign-born New Yorkers, because many have received the BCG vaccine, which cause a lingering immune response. With this new test, we hope to detect and treat TB early to stop the spread among our immigrant populations."
Multi- and Extensively Drug-Resistant TB
Multidrug-resistant tuberculosis (MDR-TB) refers to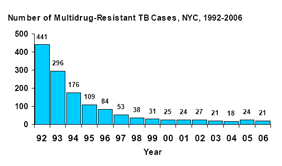 TB resistant to the most potent TB medications,
isoniazid and rifampin. In 2006, the number of new MDR-TB cases dropped to 21. Since the original outbreak of MDR-TB in the early 1990s, new cases of MDR-TB declined 95%, largely due to improved infection control practices and the expansion of directly observed- therapy (DOT) programs.
Extensively drug-resistant tuberculosis (XDR-TB) is resistant to even more drugs than MDR-TB, making it extremely difficult to treat. XDR-TB has been present in New York City since the early 1990s outbreak. There were 36 cases of XDR-TB in New York City in 1992-93. In the past 2 years, there have been 2 cases of XDR-TB in New York City.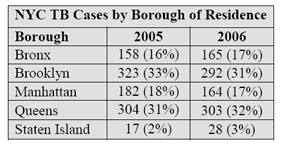 NYC TB Rates by Borough
In 2006 the Bronx and Staten Island had slight increases in TB cases, while Manhattan and Brooklyn had a decrease. Bronx and Manhattan had nearly the same number of patients in 2006. Queens has had little change in the number of cases in the last two years.
Directly Observed Therapy (DOT)
The Department continues to administer DOT, in which a trained health worker observes every dose of TB medication that a patient takes. Approximately 85% of infectious patients who received outpatient TB treatment were on DOT. DOT ensures that patients complete treatment, preventing the development and spread of drug-resistant TB and stopping the chain of TB transmission.
TB and New Yorkers Living with HIV
TB is especially dangerous for people with HIV, and complex drug interactions complicate treatment. In 2006, New York City doctors reported 127 TB cases among individuals infected with HIV. This represents a 16% decrease since 2005, when there were 151 such cases. The Health Department estimates that New Yorkers with HIV/AIDS developed TB at a rate of 133 per 100,000 persons in 2006 compared to the city-wide TB rate of 11.9 per 100,000.
TB Exposures in Health Care Facilities
In 2006, the Health Department began systematically tracking TB exposures at healthcare facilities, including hospitals and outpatient clinics. There were confirmed TB exposures in 92 different health care facilities from 81 patients in NYC in 2006.
"Because we only began systematic tracking in 2006, we do not know whether this represents an increase or decrease but are monitoring this closely," said Dr. Munsiff. "It is critical that all health care facilities remain vigilant in suspecting TB among their patients and in screening and treating affected employees to prevent outbreaks in this high-risk setting."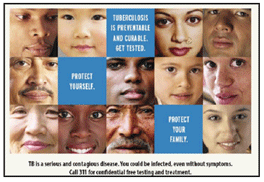 Information about Tuberculosis
Tuberculosis is preventable and curable. People with active TB can spread the infection through airborne droplets released during coughing or talking. Transmission usually requires prolonged exposure in enclosed settings. TB cannot be acquired from sharing objects such as utensils or drinking glasses. For more information about TB, visit http://www.nyc.gov/html/doh/html/tb/tb.shtml.
Health Department Chest Centers
The Health Department has 10 tuberculosis Chest Centers located throughout the five boroughs. Six of them offer QuantiFERON® testing. In 2006, the centers managed about 40% of the TB cases in NYC. Clinics are open at convenient hours, and some are open evenings and on Saturdays. Services are available in many languages and are provided free of charge, regardless of the patient's immigration status. To learn more about Chest Centers, visit www.nyc.gov/html/doh/html/tb/tbcc.shtml or call 3-1-1
###